Like a Nomad in Search of a Home
Today's society is much more mobile than in earlier times. This has influenced a whole generation, namely mine — a generation scattered to the four winds. I would be best described as a modern nomad, even a migrant worker, or perhaps a world citizen.
In my teens, I dreamt of living in different places once I grew up. I had no idea what profession would allow me to do so. Eventually, I followed my interests in art and design and became a graphic designer. Luckily, my chosen profession turned out to be quite flexible, unlike, for example, the ones of health care practicians, who might discover their academic credentials invalid when entering a different country. My profession is adaptable to different places — instead of a diploma one shows his portfolio. This enables me today to do what I had dreamt of when I was younger.
After living in Montreal, Canada, for a couple of years, I planned to move back to Europe this summer. However, shortly after arriving in Europe, I received a new offer for work back in Canada. It took me a few days to reach a decision, and two weeks later I was on Canadian soil again. I called myself a migrant worker – I follow the work. With a vast professional and personal network that spans continents, I find opportunities on both side of the ocean.
Thus, this new job in Halifax, Nova Scotia. Yet another place to discover. Work was waiting for me, as was the apartment. It only took me a couple of weeks to get sorted out. Settling in happened very quickly, but possibly because I am used to Canada, and used to adapting to a new home.
What is new for me are some of the rules in this province that are quite different than the ones I am used to in Quebec. My bank, government regulated liquor stores, health care services — all these works pretty much in the same way as in other Canadian provinces. The city itself is easy to explore and one usually does not get lost when following along the typical North-American grid patterns the streets are based on.
I brought one suitcase of 23 kg only — the days when one was allowed two suitcases each 23 kg for a transatlantic flight are long over. As a result, there is always something one has not brought enough of. I noticed that I did not bring enough t-shirts; I found some at the Salvation Army store for two dollars each. At that price, I can leave them behind at the end of my stay without regrets, and with a minimum of wasted resources.
Often, I find I have to acquire certain things again and again — what a waste. But I have no choice. As a colleague of mine puts it, 'you spend a lot of money over and over again, but at least you've got the job'. This is true indeed.
One trick is to explore and discover quickly the best place to buy the more common things. Prices vary from country to country; while a supermarket is cheaper in Germany, it is expensive in Canada, where you are better off going to the small groceries around the corner.
My eating habits change from place to place, too. Milk products are very expensive in Canada, even local milk products. I probably will not eat as much cheese here as I used to in Holland. I will switch over to fish and seafood, which are abundant here, in addition to being affordable and fresh.
Recently, I bought what is possibly my 10th bike, one of Canadian style this time. When leaving a place, I sometimes store my bikes at friends' houses or donate them. When I have a slight feeling that there is a possibility I will return in the near future, I prefer to keep a bike there.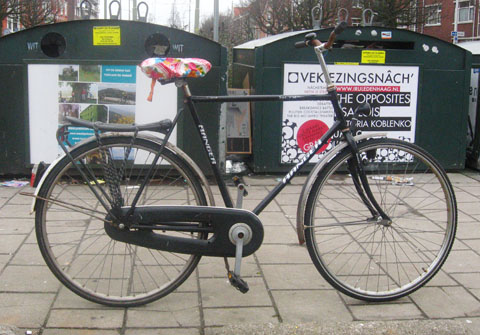 Some of the bikes I owned while living in different places: My bike in The Hague
My bike in Halifax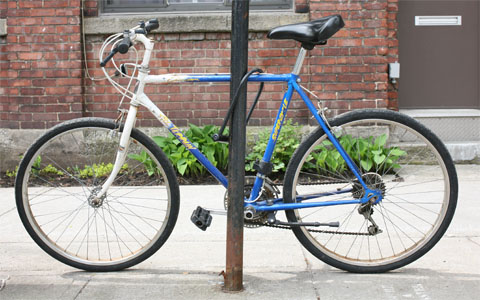 One of my bikes in Montreal
One of my bikes in Montreal
Generally, I enjoy living in different locations. I get to know many places and people, and learn about countries, customs and languages. I learn all this during my daily life, through my personal experiences in new and somewhat unchartered places.
On the other hand, it can be exhausting to go through the same procedures of settling down every time. The first step is to leave one's apartment, get rid of stuff, and find storage for the rest. Then, in the new location, this means searching for an apartment, and organizing clerical stuff, such as opening a bank account, finding out about the cities infrastructures, etc.
All this takes a lot of time and costs money as well, especially at the beginning, when one has not found out yet where to get the good deals.
The things I have accumulated over time, are stored all over the world, at my family's home, and at friends' houses in Canada and Europe, like so many bread crumbs left along my trail. Someone once suggested I burn my storage boxes, predicting that I will never open them again. There is a finality in that suggestion that feels a little sad.
Mostly, I miss my books. They are in boxes, stored somewhere. I also have them listed on my site better to keep track of my books. Some books are available in digital format, which makes it easier to take them along for the ride. I am lucky at the moment, because I live at a friend's place with an amazing personal design and typography library — more choice than in my privately stored library. I have learned that libraries are a great substitution for personal books.
I enjoy staying at a place for a short while, for example three months, as is the case now. This feels for me like being constantly on vacation. At the beginning, there is so much to discover. One takes time to look carefully around in the new environment. Also, people are very nice. Potential craziness is usually not evident in this initial phase, and this is just great! One is always surrounded with good vibes.
Meeting new people is always interesting, but new connections tend to remain superficial. It is not really possible to create a substantial link in such a short time. Especially not when one meets people at the end of a stay. In the end, there is always this notion of "well, I'll move away soon". The consolation is that soon one will again be in a new, exciting place to meet new people.
A positive aspect of this is that keeping up with new acquaintances is easier than ever, and I have been able to maintain good friendships with people I have met in my earlier travels. Online networks grow and stay organized thanks to Google+, LinkedIn, Twitter and Facebook. Contacts accumulate rapidly through these platforms, and one wonders if it is possible at all to keep up with new people. Chances are good, because there was some direct human interaction involved at first, and this makes a relationship naturally stronger. Remembering the person in real life has more impact than adding a "friend of a friend" from your network you have never personally talked to.
People can recognize that I am a foreigner just by hearing me speaking a few words. There is some accent, wherever I go, unless I am in my native country. People often take the accent as a first step to opening up a conversation, which is nice. This mostly happens in areas with little numbers of immigrants. In Montreal, for example, it happens rather rarely because people are used to immigrants. Whereas here, in Halifax, a relatively "white" Canadian city, this attitude is more widespread.
"Brigitte, where is home?" is a question I came across for the first time here in Halifax. I love it for being the least intrusive question on the subject of provenance. I can answer however I feel like at this particular moment: Where I live at the moment (Halifax), where I have been living for the last years (Montreal), where I am from and where I grew up (Germany), where I will go in the future ("somewhere" for sure).
I thought I would give up living like a nomad at some point. But now, I am not so sure this will ever happen. I have being living like this for more than ten years now. It has become a sort of lifestyle. All I really need is my computer and a good Internet connection to execute my profession; the location is rather secondary. Perhaps an attractive "in-house" job offer might change my mind, but that is a bridge to be crossed when I come to it.
But as great as this sounds, it is nevertheless nice to have a place one can always come back to if one feels like it. A personalized, material space somewhere in this world. And this is goes beyond "home is where your heart is".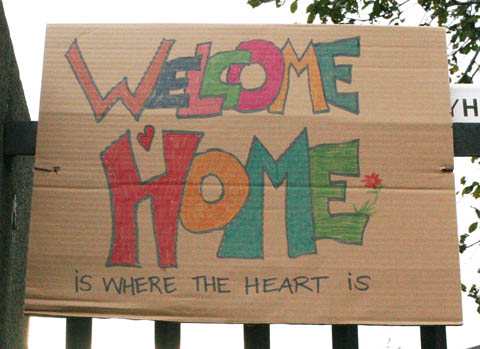 "Home is where the heart is" written on a cardboard during Occupy Nova Scotia Event, Barrington/George Street, Nova Scotia, Canada
This is my current life: I live plenty, just rarely ever in the same place.
The article continues with the second part of the series Like a Nomad in Search of a Home - Switzerland.
Author
Published
Tags