Swiss Cat Ladders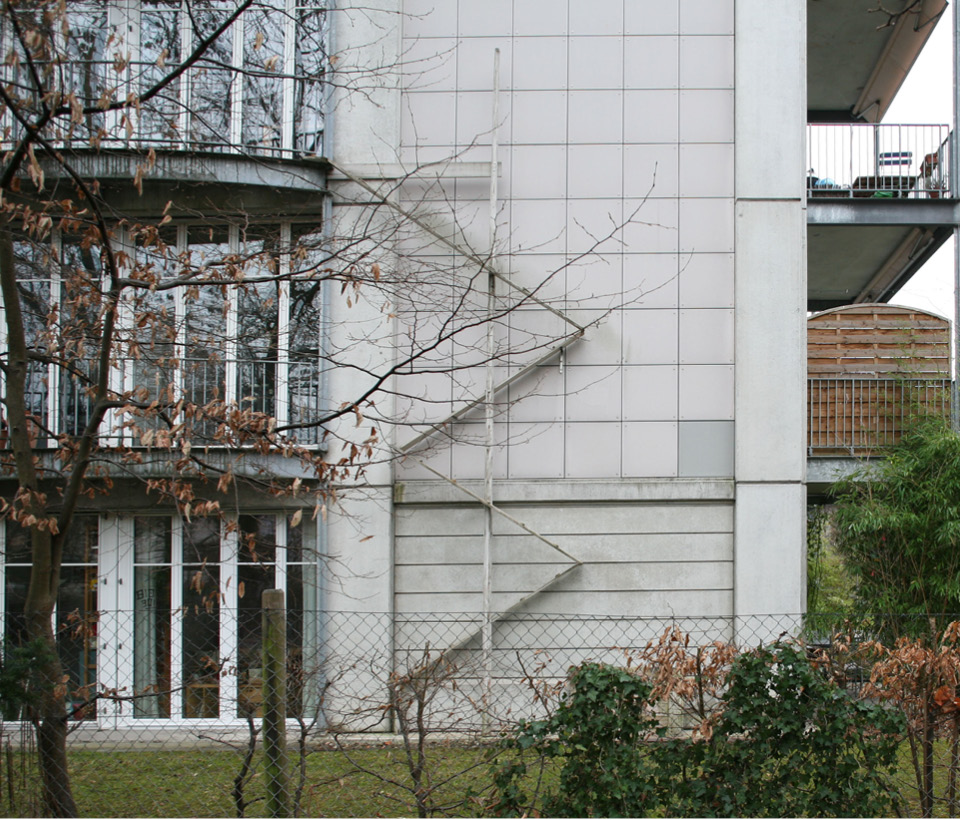 Sample chapter

/

Beispielkapitel

[Design in progress / Gestaltung im Entstehungsprozess]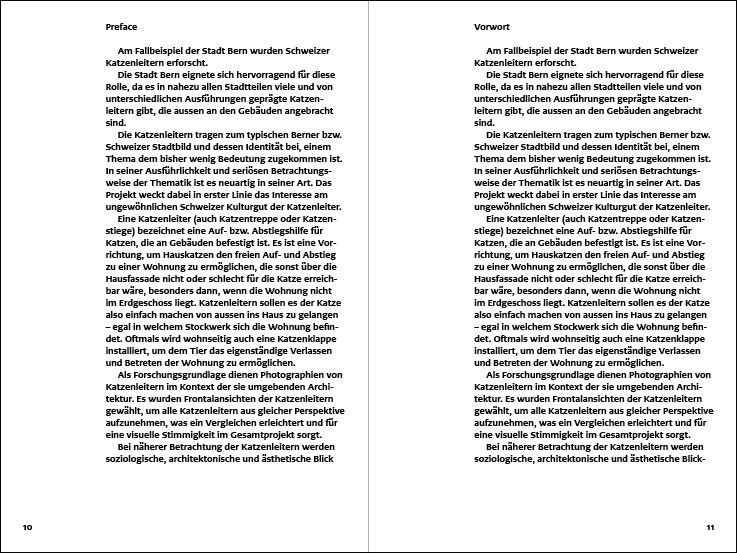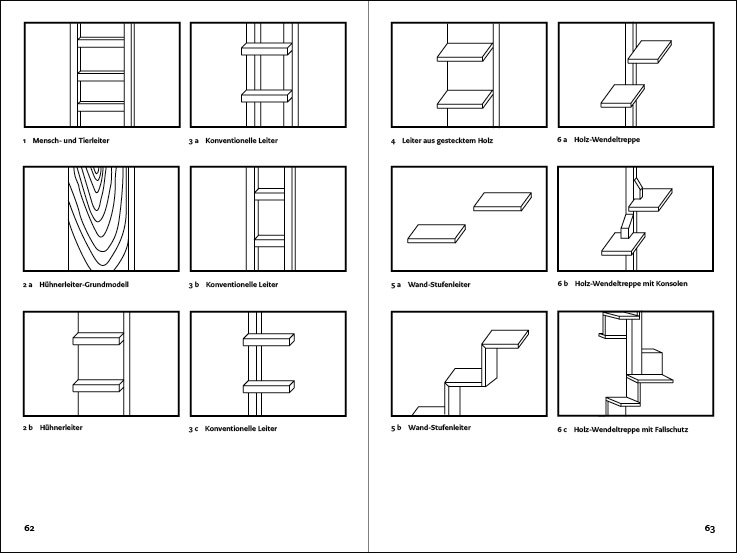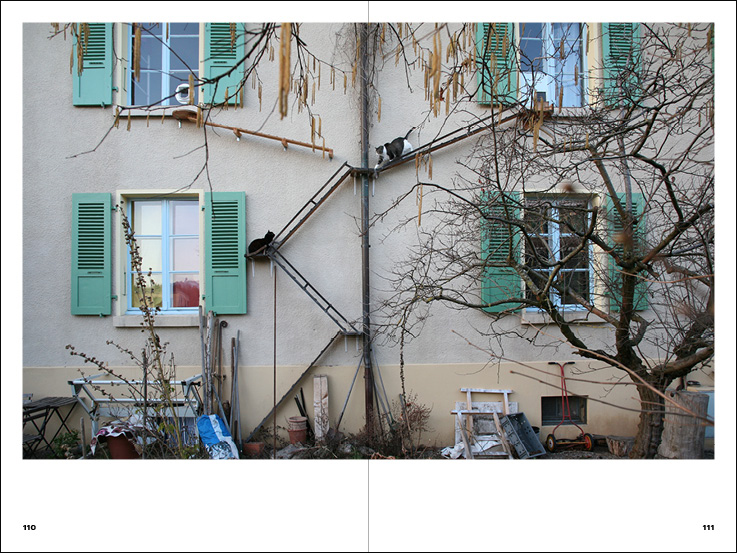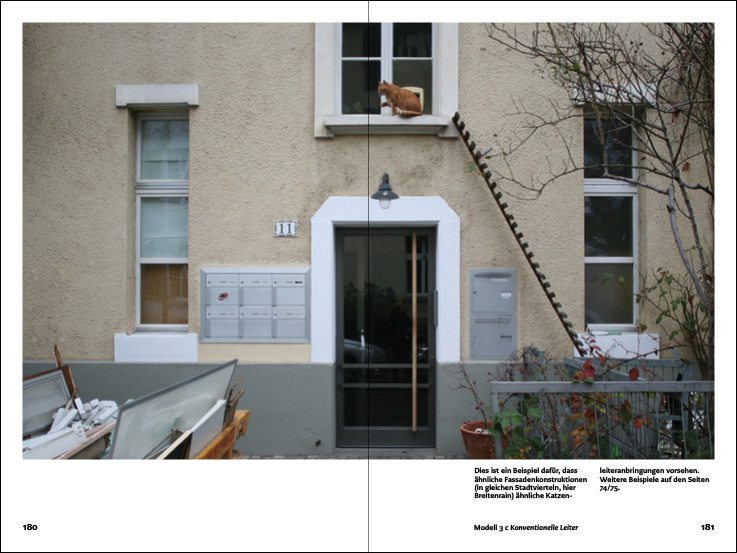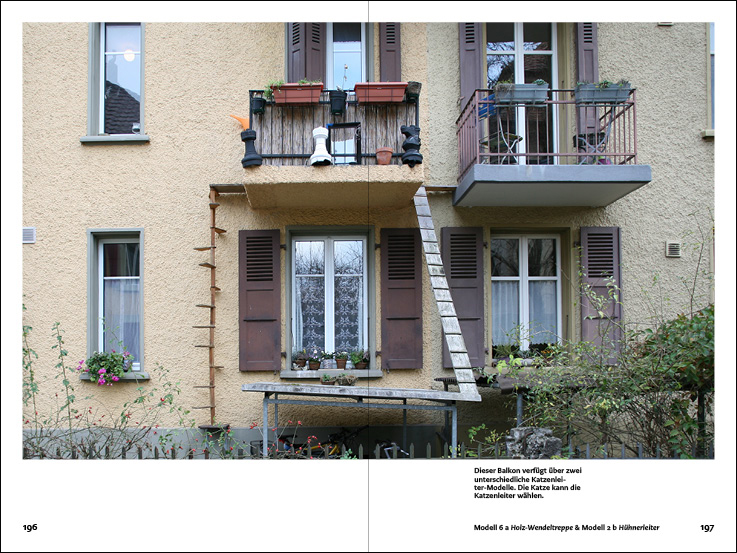 ---
Short description
Author:

Brigitte Schuster

Title:

Swiss Cat Ladders

ISBN:
Publication date (expected): Jan 2019
Publication place:

Bern

,

Switzerland

Page count:

268

Dimensions:

13 cm

x

19.5 cm

Binding:

Paperback

, Japanese binding & Otabind
Illustrations: more than 100 pictures (duplex printing)
Language:

English

, German
Genre:

art

,

design

,

architecture

,

sociology

,

culture
Synopsis
The example of the city of Bern is used to research Swiss cat ladders. A cat ladder is a climbing aid for cats, which is usually attached to buildings. The research is based on photographs of cat ladders in the context of their surrounding architecture. A closer look at the cat ladders reveals sociological, architectural and aesthetic perspectives, which are elaborated in an accompanying text. For example, the question arises as to whether we humans should really impose the cat ladders we have created, to cats. Through a publication, the fugacious and cultural heritage of the cat ladder will be preserved, archived and conveyed to following generations. The printed book, whose claim is a first-class design, will be available from the beginning of 2019.
Contents
Preface
Introduction
Swiss Cat Ladders – an Essay
Modell sketches & photographies
Reviews and events
Exhibition on the making process of the book: "Bestform" exhibition of the Bern Design Foundation (March 23 to April 29, 2018), vernissage: March 22, 2018, 7 pm in the city hall of Kornhausforum Bern
Pre-order Book and Distribution
With your pre-order the printing of the book is made possible. Order your copy now until November 30, 2018, the latest! (See order form below)
Goal is the pre-order (using advance payment) of 250 copies. This results in a sales price of 45 EUR / 55 CHF per book.
Current pre-orders: 57 (updated May 29, 2018)
---
* * *
Kurze Beschreibung
Autor: Brigitte Schuster
Titel:

Schweizer Katzenleitern

ISBN:
Erscheinungsdatum (voraussichtlich): Jan 2019
Erscheinungsort: Bern, Schweiz
Seitenzahl: 268
Abmessungen: 13 cm x 19.5 cm
Bindung: Taschenbuch, Japanische Bindung & Otabind
Illustrationen: über 100 Abbildungen (Duplexdruck)
Sprache: Englisch,

Deutsch

Gattung:

Kunst

,

Gestaltung

,

Architektur

,

Soziologie

,

Kultur
Synopse
Am Fallbeispiel der Stadt Bern werden Schweizer Katzenleitern erforscht. Eine Katzenleiter bezeichnet eine Auf- bzw. Abstiegshilfe für Katzen, die meist an Gebäuden befestigt ist. Als Forschungsgrundlage dienen Photographien von Katzenleitern im Kontext der sie umgebenden Architektur. Bei näherer Betrachtung der Katzenleitern werden soziologische, architektonische und ästhetische Blickwinkel erkennbar, die in einem begleitenden Text herausgearbeitet werden. Es ergibt sich beispielsweise die Frage, ob wir Menschen den Katzen die von uns geschaffenen Katzenleitern regelrecht aufzwingen. Durch eine Publikation wird das vergängliche und kulturelle Erbe der Katzenleiter für folgende Generationen erhalten, archiviert und vermittelt. Das gedruckte Buch, dessen Anspruch eine erstklassige Gestaltung ist, ist ab Anfang 2019 verfügbar.
Inhalt
Vorwort
Einleitung
Schweizer Katzenleitern – ein Aufsatz
Modellskizzen & Photographien
Rezensionen und Veranstaltungen
Ausstellung über den Entstehungsprozess des Buches: Ausstellung "Bestform" der Berner Designstiftung (23. März bis 29. April 2018), Vernissage: 22. März 2018, 19 Uhr im Stadtsaal des Kornhausforums Bern
Buch-Vorbestellung und Versand
Durch Deine / Ihre Vorbestellung wird der Druck des Buches erst ermöglicht. Bestelle / Bestellen Sie schon jetzt Dein / Ihr Exemplar bis spätestens 30. November 2018! (Siehe Bestell-Formular weiter unten)
Ziel ist die Vorbestellung (gegen Vorkasse) von 250 Exemplaren. Das ergibt pro Buch einen VK Preis von 45 EUR / 55 CHF.
Derzeitige Vorbestellungen: 57 (aktualisiert am 29. Mai, 2018)
Author
Published
Tags