Swiss Cat Ladders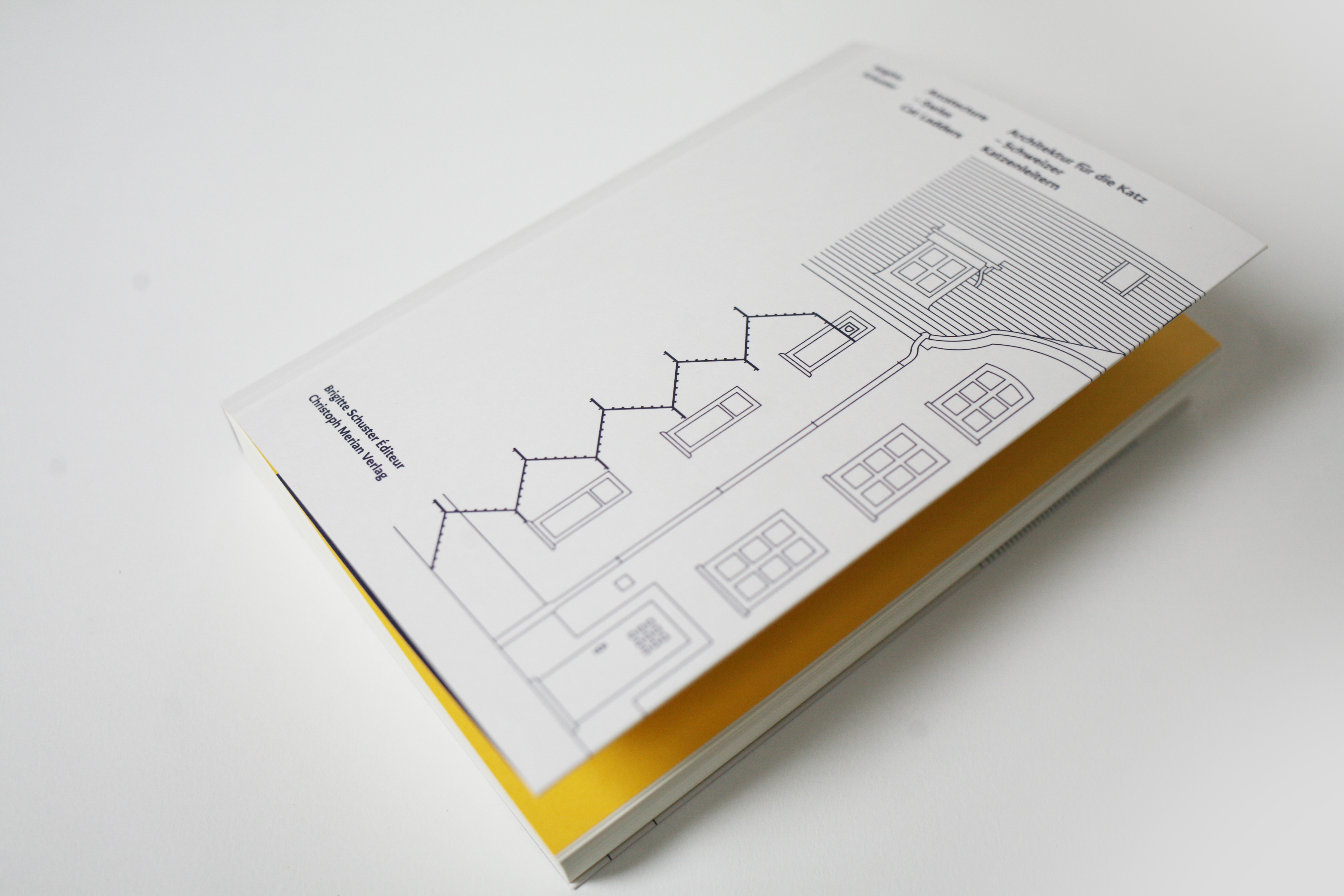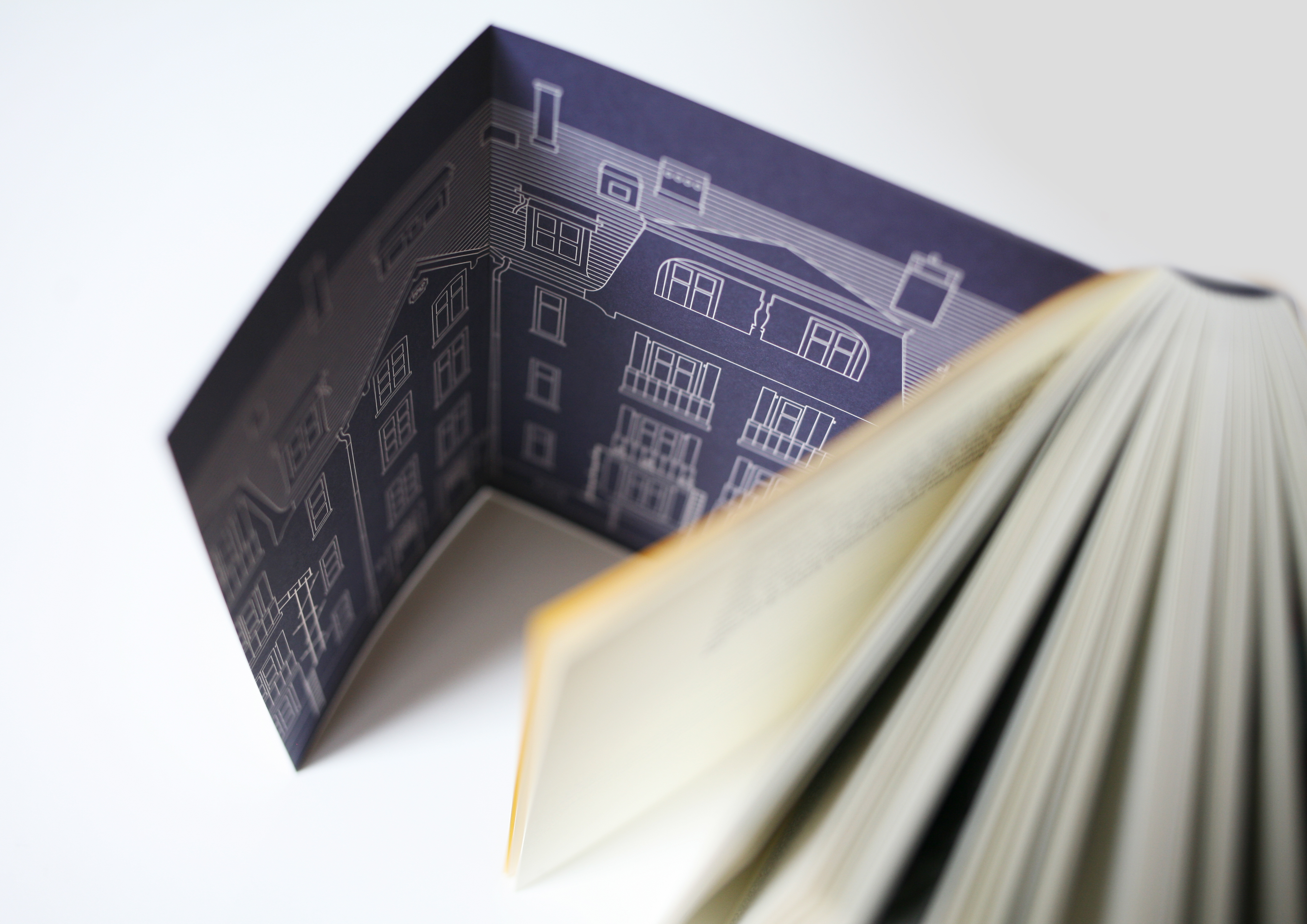 ---
Short description
Author:

Brigitte Schuster

Title:

Architektur für die Katz / Arcatecture; Schweizer Katzenleitern / Swiss Cat Ladders

Publisher: Christoph Merian Verlag, Basel; Brigitte Schuster Éditeur, Bern
ISBN: 9783856169138
Publication date: October 16, 2019
Publication place:

Basel, Bern

,

Switzerland

Page count:

320

Dimensions:

13.7 cm

x

20.5 cm

Binding:

Paperback

, Otabind
Illustrations: more than 100 illustrations, mostly in colour
Language:

English

, German
Genre:

art

,

design

,

architecture

,

sociology

,

culture

Print Run: 1100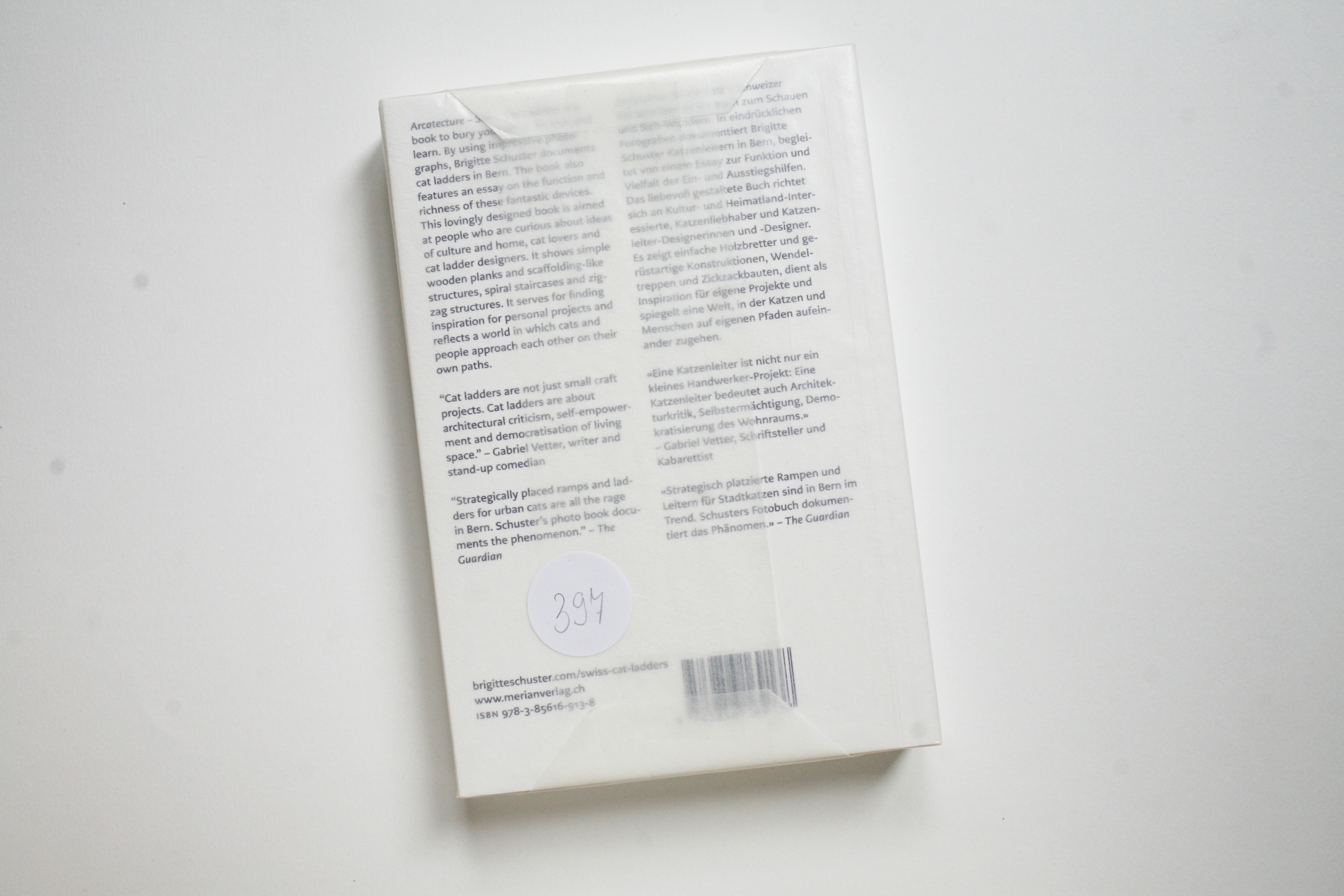 Synopsis
Arcatecture – Swiss Cat Ladders is a book to bury yourself in, to look and learn. By using impressive photographs, Brigitte Schuster documents cat ladders in Bern. The book also features an essay on the function and richness of these fantastic devices. This lovingly designed book is aimed at people who are curious about ideas of culture and home, cat lovers and cat ladder designers. It shows simple wooden planks and scaffolding-like structures, spiral staircases and zig­zag structures. It serves for finding inspiration for personal projects and reflects a world in which cats and people approach each other on their own paths.
"Cat ladders are not just small craft pro­­jects. Cat ladders are about architect­­u­ral criticism, self-empower­ment and demo­cratisation of living space." – Gabriel Vetter, writer and stand-up comedian
"Strategically placed ramps and lad­­ders for urban cats are all the rage in Bern. Schuster's photo book docu­ments the phenomenon." – The Guardian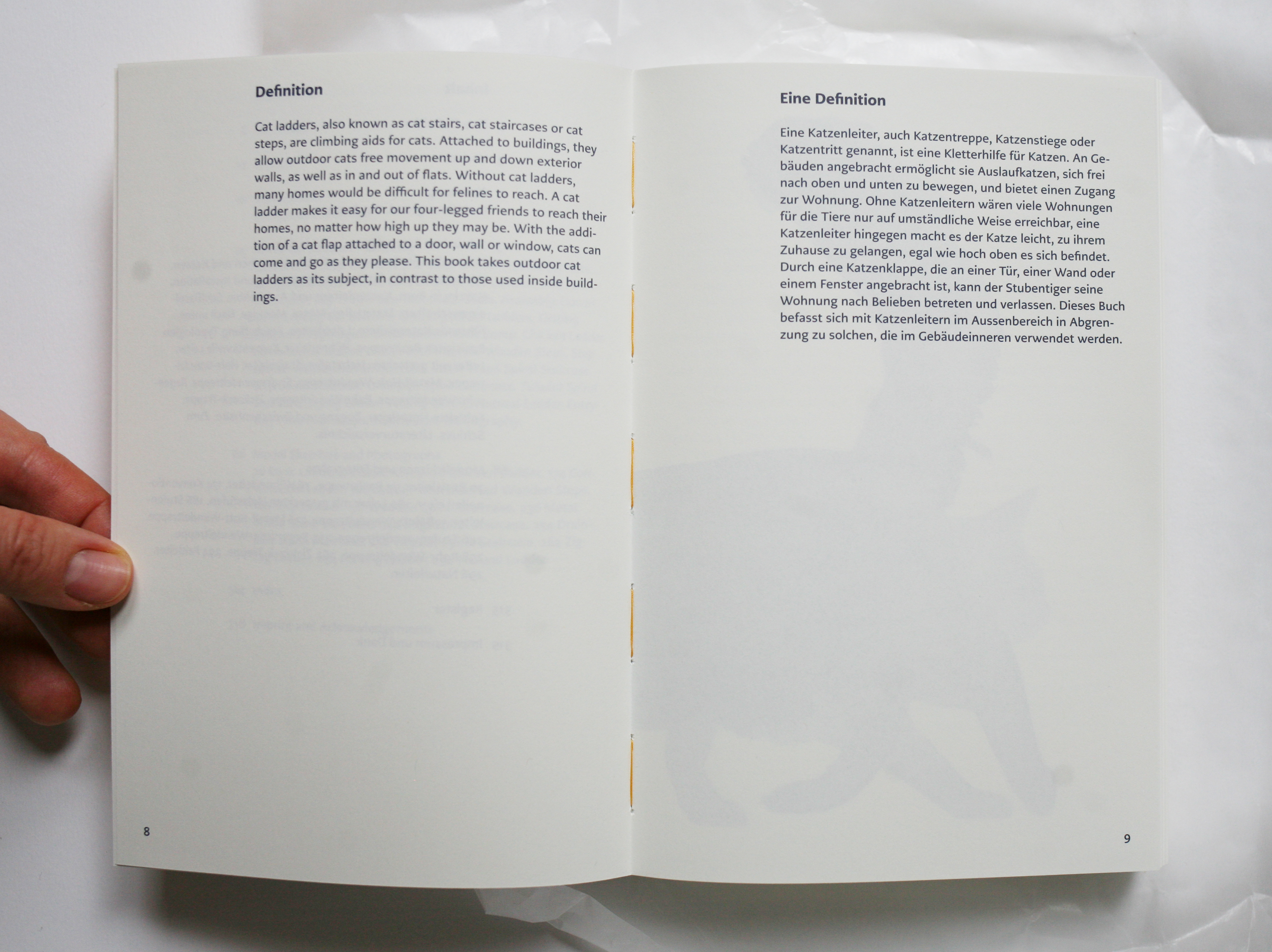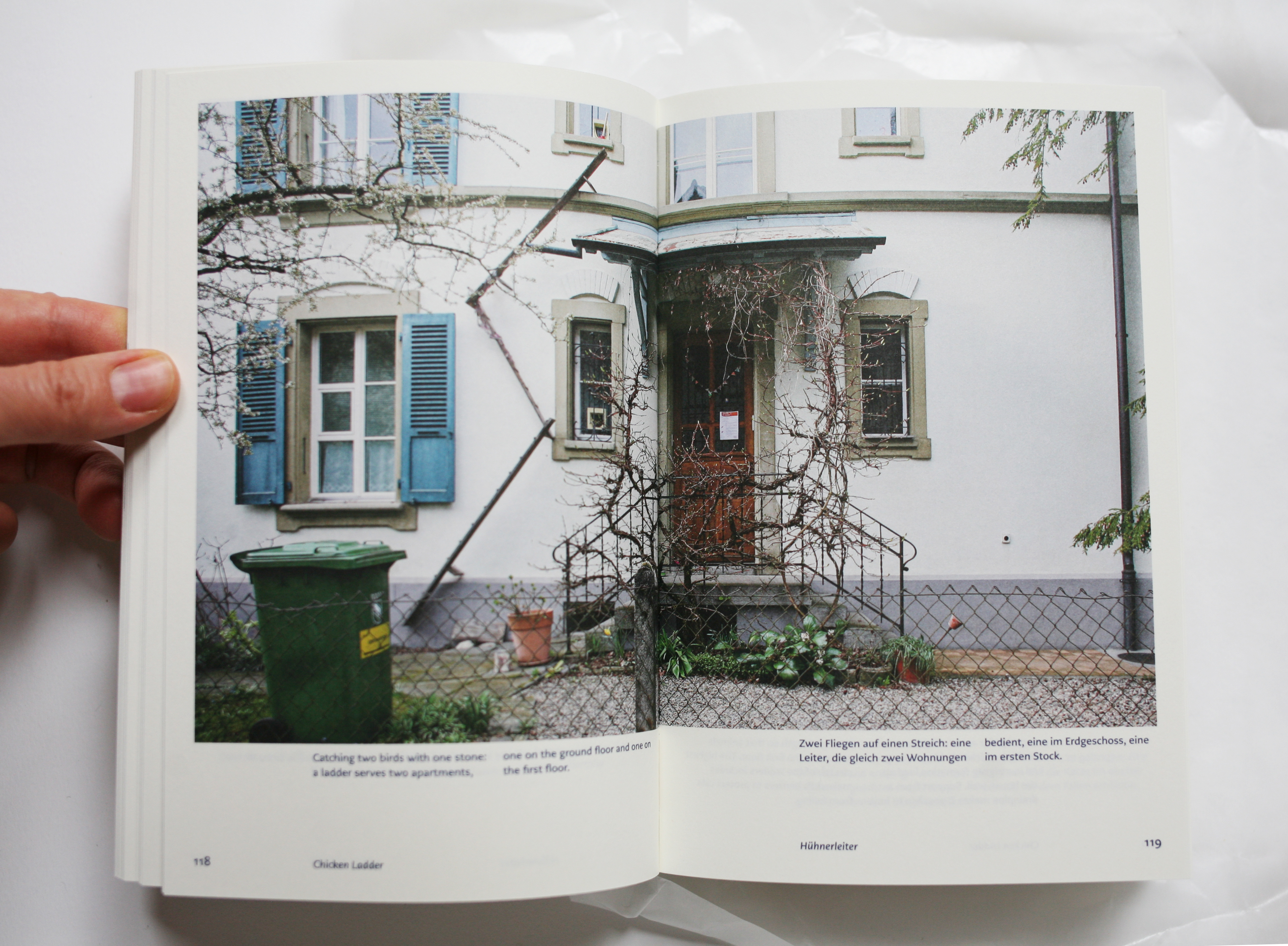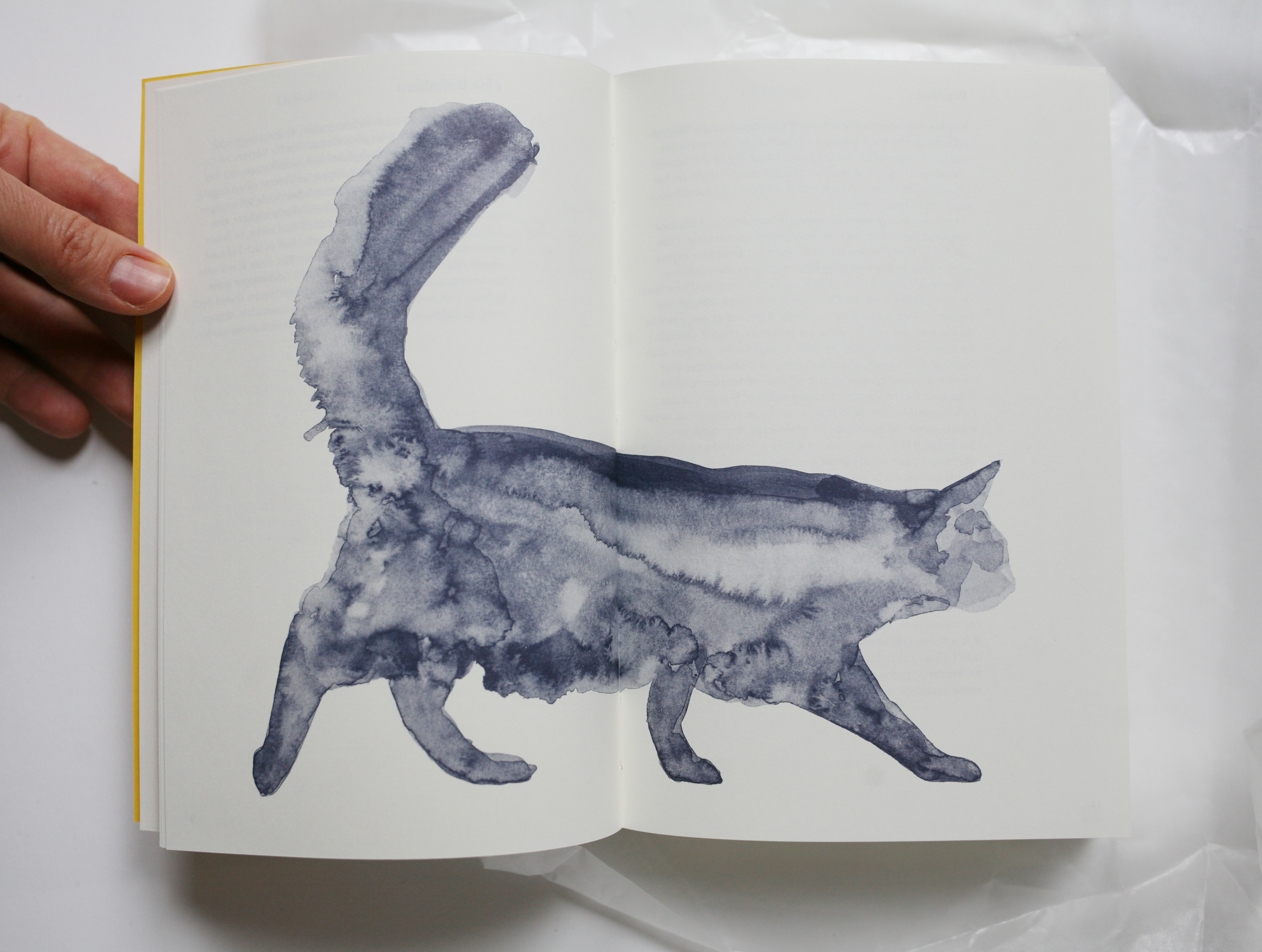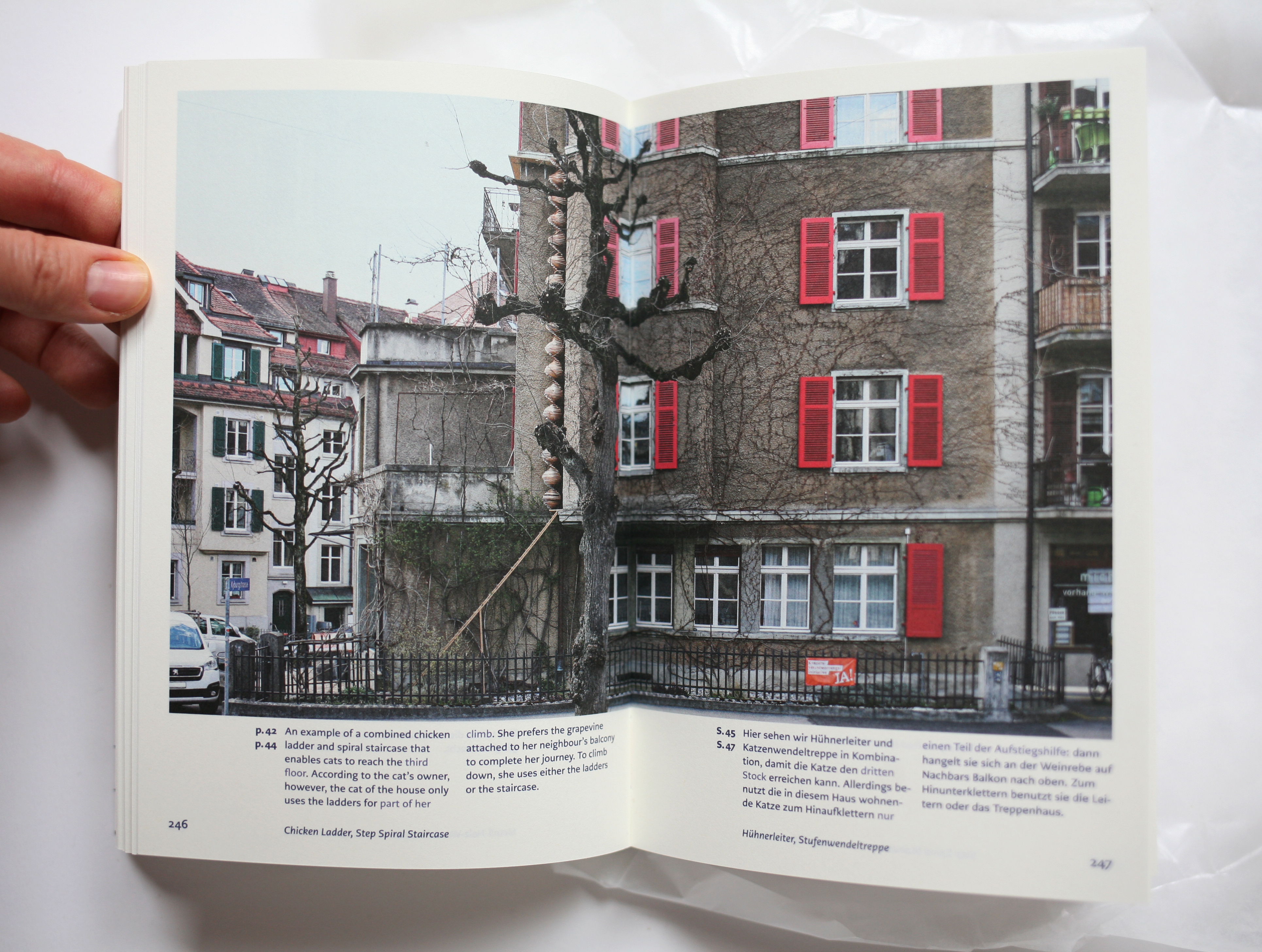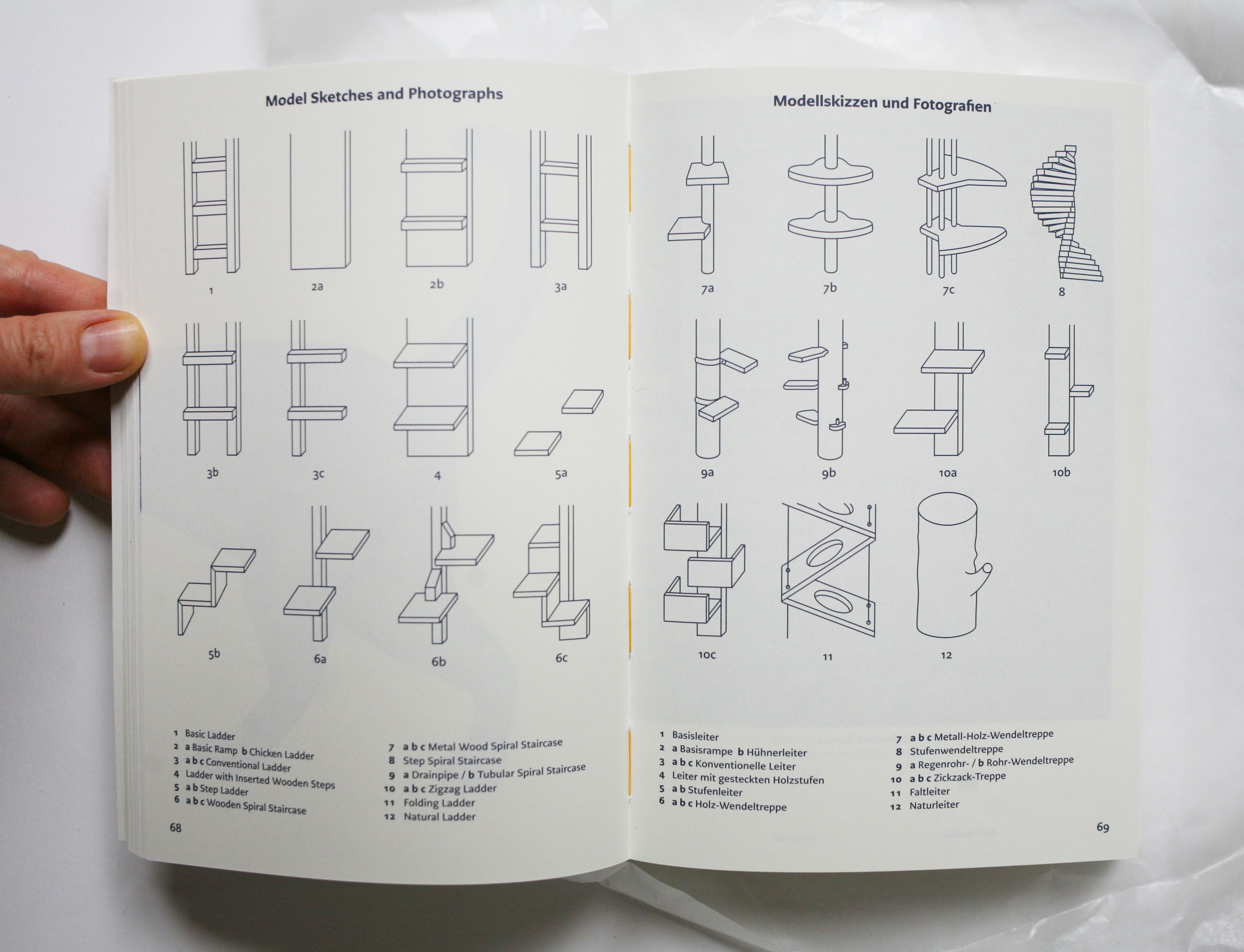 Contents
Preface
Introduction
Swiss Cat Ladders – an Essay
Modell sketches and photographs
Reviews, events and media
Rezensionen, Veranstaltungen und Medien
Exhibition on the making process of the book: "Bestform" exhibition of the Bern Design Foundation (March 23 to April 29, 2018), vernissage: March 22, 2018, 7 pm in the city hall of Kornhausforum Bern
Fuchs, Regula, «Für aufstiegswillige Vierbeiner», Der kleine Bund, April 25, 2018.
Schreuders, Piet, «Climbing aids», De Poezenkrant, #63, 2018.
Vetter, Gabriel, «Stairway to Heaven», Migros Magazin: «Bild der Woche», May 2018.
Lettau, Marc, «Der diskrete Catwalk für helvetische Miezen», Schweizer Revue, July 2018.
Radio show: Bernasconi, Elena, Live emission, «14-15 h Radio SRF1», September 6, 2018.
Schmits, Andrea, Tierwelt, 2018.
Loizou, Nicolette, «Cat ladders: a creative solution for felines in flats – in pictures», The Guardian, February 14, 2019.
Hasson-Fauré Nicolas, «Ces drôles d'échelles aident les chats à grimper dans leurs immeubles«, Ouest-France, February 18, 2019.
Staugaitis, Laura, «A New Book Explores the Wide Range of Charming Homemade Cat Ladders in Switzerland», Colossal, February 20, 2019.
Tapi, Sofie, «Photographer Documents The Phenomenon Of Cat Ladders In Switzerland (22 Pics)», Bored Panda, February 21, 2019.
Ron Orp's Mail, Newsletter, February 21, 2019.
Radio show: Pony Express, with Ellen Ichters & Lionel Tardy, «11.15 h Radio RTS - Couleur 3», February 26, 2019.
Barnes, Sara, «Buildings in Switzerland Have Cat Ladders to Help Felines Survey Their Kingdom Below», My Modern Met, February 26, 2019.
Thie, Merel, «De kattenladder is vaak een mini-mensentrap», nrc.nl (Amsterdam), March 6, 2019.
Eham, Michael, «In der Schweiz haben Katzenleitern ganz andere Ausmaße», Süddeutsche Zeitung – Neue Fotografie (München), March 7, 2019.
«Una serie di foto delle strane scalette per gatti di alcuni palazzi svizzer», wonews.it, March 8, 2019.
Riahi, Meryem, «Berner Katzenleitern begeistern Tierfreunde auf der ganzen Welt», 20minuten.ch, March 12, 2019.
Cabezas, Dani, «Crean escaleras en las fachadas para que los gatos regresen a casa», Tribus Ocultas, March 26, 2019.
Fabro, Nathalia, «Fotógrafa registra escadas para gatos que são populares em casas na Suíça», Globo.com, March 27, 2019.
Monnier, Mireille, «ArCHATecture» (Print), «Chat descend et chat remonte» (Online), Ringier Axel Springer Suisse SA: L'illustré, March 30, 2019.
Widmer, Thomas, «Grosses Leiterntreffen», Schweizer Familie, 18/2019.
James, Helen, «Les chats suisses et leurs échelles», swissinfo.ch, May 11, 2019.
Briccola, Stefania, «Su e giù – Case, scale e gattini», Ticino 7, May 5, 2019.
Dahl, Kieran, «All the rage. The woman giving death a makeover. The sights, sounds and ideas trending round the world», The Economist, 1843magazine.com, June/July, 2019.
Dahl, Kieran, «The Swiss City That's Full of Cat Ladders. A photographer captured Bern's eclectic and charming feline structures.», Atlas Obscura, June 3, 2019.
Halliday, Ayun, «A New Photo Book Documents the Wonderful Homemade Cat Ladders of Switzerland», Open, Culture, June 7, 2019.
Duruz Céline, «Déclaration d'amour en façades», Terre&Nature, September 12, 2019.
Lepasteur, Aude-May, «Berne, paradis des grimpeurs félins», La Liberté, October 15, 2019.
Schmid, Birgit, «Auf dem Catwalk: Die Schweiz ist ein Land von Katzenleitern», NZZ, November 22, 2019.
TV show: Catier, Marie-Emilie, «Pratiques, originales, les échelles à chat connaissent un succès grandissant en Suisse Romande», RTS (Radio Télévision Suisse), November 25, 2019.
Biba, Erin, «Where cats get their own staircases», National Geographic, December 4, 2019.
Weissmüller, Laura, «Katzen-Architektur» (Feuilleton), Süddeutsche Zeitung, December 7/8, 2019.
Fuchs, Regula, «Bern ist die Stadt der Katzenleitern», Der kleine Bund, Dezember 17, 2019.
Michaël de Moor, «Als de kat van huis wil», demorgen.be (Brussels), January 26, 2020.
Radio show: «Das Huhn – unterschätztes Federvieh», with Katrin Becker, 15 May: 5 pm to 5:30 pm and 19 May: 12.30 pm, SRF 2 Kultur und Gesellschaft, May 15 and 19, 2020.
(to come) TV show: «Sakagami Kingdom of Animals», Japan Footage/Fuji TV, May 27, 2020.
(to come) blickpunktNORD: Anzeiger für das Nordquartier, June 2020.
(to come) Hotchner Tracie, The Radio Pet Lady Network, 2020.
What readers think / Leserstimmen
Vielen Dank für das - signierte! - Buch, das heute bei mir eingetroffen ist! Ich freue mich sehr darauf, es gründlich zu studieren und zu begucken. Der Geruch, der mir beim Öffnen der Verpackung (etwas wie Pergamentpapier) in die Nase stieg, hat mir einmal mehr meine Zuneigung zum "realen" Buch bestätigt...
*
Gratulation zu diesem einmaligen Werk! Das wunderbare Buch ist heute hier angekommen und ist als spätes Geburtstagsgeschenk in Empfang genommen worden... Es ist ein Privileg, ein solches Buch herzustellen - und zu besitzen! Ich kann mitfühlen, wie es ist, ein fertiges Werk schlussendlich in den Händen zu halten - durfte ich doch in der Vergangenheit auch einige Projekte realisieren, die weit entfernt von kommerziellen Inhalten waren. Perfekt!
*
Mit grosser Freude habe ich heute das Paket mit Ihrem Buch geöffnet. Herzlichen Glückwunsch, dass Sie das Projekt zu Ende führen konnten. Der erste Blick ist genauso amüsant wie wir uns erhofft hatten. *Katzenleiter indoor in Bau :-)*
*
Ich habe das Buch heute bekommen und freue mich sehr darauf! Die Wasserfarben Illustrationen sind auch sehr schön.
*
Das Buch ist diese Woche angekommen! Es ist überaus gelungen und ich freue mich darüber!
*
Gerne möchte ich mich bei Ihnen für das wunderbare Buch bedanken, das ich Anfang Woche in unserem Briefkasten entdeckt habe. Ein sehr schönes Objekt! Ich gratuliere Ihnen und wünsche viel Erfolg.
*
Inzwischen ist das buch «katzenleitern» schon seit einiger zeit auch bei mir eingetroffen. Ich finde es sehr schön und liebevoll gestaltet. Vor allem schätze ich auch die hohe qualität der fotos und deren sorgfältige verarbeitung (entzerrung der stürzenden linien). Mit freude und schmunzeln schaue ich es mir jeweils an.
*
Wir gratulieren Ihnen zu Ihrem schönen und äusserst interessanten Buch und danken Ihnen herzlich dafür, dass Sie auch den Zugang zur grossen UG-Eigentumswohnung unserer Charlie darin aufgenommen haben.
*
Just a quick note to say that I received the book! Congratulations. Thank you – it looks beautiful. I especially love the cover with the yellow inside and the diagrams of all the ladders :)
*
Habe ich mir gedacht: ich habe zehn Exemplare von Ihrem hübschen Band bestellt. Sie werden in ca 3 Wochen hier sein, und sie sind jetzt schon ALLE weg! Ich musste noch mal bestellen und hoffe damit unser Weihnachtsgeschenkfieber beruhigen zu können!
*
Received your delightful book which is such a great topic. My friends admire the Swiss cats who go up and down these stairs. I wish you great success with the book and if you do another, please let me know. All good wishes!
*
Ich hatte eben Dein Buch über die Berner Katzenleitern auf dem Tisch und finde es sehr schön, fein, lustig und gleichzeitig tiefsinnig. Auch die zwischen den Seiten streunenden Aquarellkatzen sind wunderbar.
*
Das Warten hat sich gelohnt. Kompliment für ihre Riesenarbeit. Neben dem grafischen Konzept, gefallen mir ganz besonders die gerade gestellten Fassaden. Das beruhigt die Bilder. Sie sind ein wahrer Genuss!
*
As you may see [image attached] I've made a cat ladder for my 16,5 years old lady inspired by your book. The book is very beautiful I really like projects like this. I'am so thankful.
*
Wir haben uns an den letzten Abenden köstlich unterhalten in diesem katzentreppenreichen 'Hinterhof' von Bern, in Quartieren, in die man als Auswärtiger selten kommt – weit weg von der Junkern- und der Gerechtigkeitsgasse, vom Münster und vom Zytglogge. Das Buch ist handlich, übersichtlich organisiert, gut lesbar und – obwohl alle Aufnahmen farbig sind – von durchgehend gleicher, angenehmer Farbstimmung, etwas, was man in Büchern mit Farbreproduktionen selten sieht. Die große Recherche-Arbeit und die Systematik sind eindrücklich und gleichzeitig zum Schmunzeln: Katzenleitern erhalten wissenschaftliche Weihen. Ich vermute, dass ich das Buch bei nächsten Gelegenheiten an meine diversen Katzenfreunde* verschenken werde. Chapeau!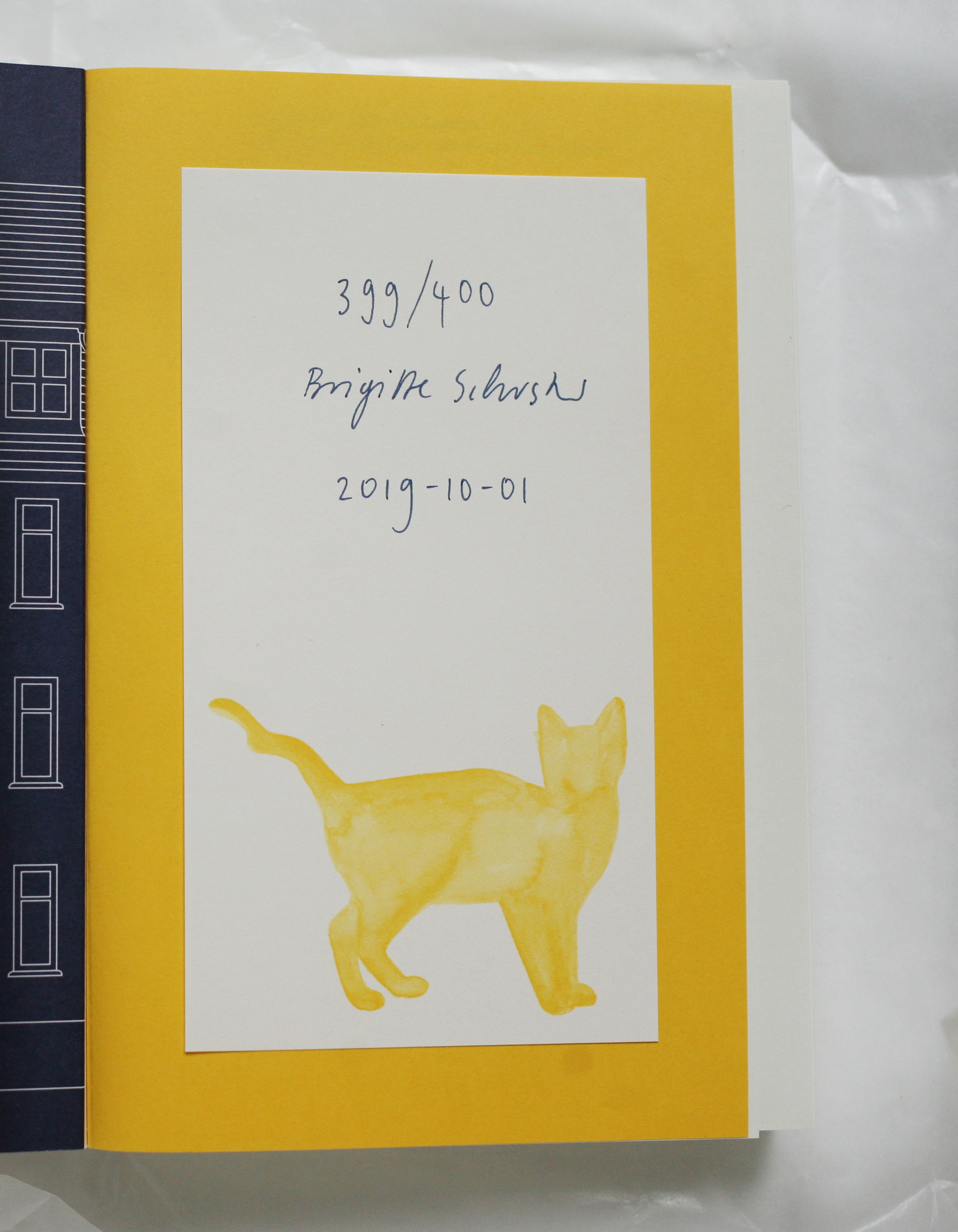 Book order and Distribution
The book is available in the regular edition and in the special edition.
Both can be ordered directly here (via the "Order Form" or by email info [at] brigitteschuster.com). The regular edition is available for CHF 44.00 / EUR 39.00 (plus shipping).
The special edition with an edition of 400 – includes a printed and signed insert sheet at the beginning of the book – is available for CHF 44.00 / EUR 39.00 (plus shipping).
Christoph Merian Verlag, CH distributes the book. The international distribution is carried out through Idea Books, NL.
Available in Europe:
The book can be purchased in bookstores and online bookstores.
The American Book Centre, Amsterdam, NL
Architectura & Natura, Amsterdam, NL
Athenaeum, Amsterdam, NL
Bijleveld, Utrecht, NL
Brosese Boekverkopers, Utrecht, NL
Bruil & V.D. Staaij, NL
Boekhandel Dominicanen, Maastricht, NL
Frozen Fountain, Amsterdam, NL
Van Gennep, Rotterdam, NL
Nai Booksellers, Rotterdam, NL
Van Pierre Eindhoven, Eindhoven, NL
Available in North America:
Available in Asia:
Prosper Intl Book Co Ltd, Taipei, TWN
Yamazaki Tosyo, Tokyo, JPN
Tokyo Book Center C Ltd, Tokyo, JPN
Keishodo, JPN
---
* * *
Kurze Beschreibung
Autor: Brigitte Schuster
Titel:

Architektur für die Katz / Arcatecture; Schweizer Katzenleitern / Swiss Cat Ladders

Verlag: Christoph Merian Verlag, Basel; Brigitte Schuster Éditeur, Bern
ISBN: 9783856169138
Erscheinungsdatum: 16. Oktober 2019
Erscheinungsort: Basel, Bern, Schweiz
Seitenzahl: 320
Abmessungen: 13.7 cm x 20.5 cm
Bindung: Taschenbuch, Otabind
Illustrationen: über 100 Abbildungen, meist in Farbe
Sprache: Englisch,

Deutsch

Gattung:

Kunst

,

Gestaltung

,

Architektur

,

Soziologie

,

Kultur

Auflage: 1100
Synopse
Architektur für die Katz – Schweizer Kat­zenleitern ist ein Buch zum Schau­­­en und Sich-Wundern. In eindrücklichen Fotografien dokumentiert Brigitte Schuster Katzenleitern in Bern, begleitet von einem Essay zur Funktion und Vielfalt der Ein- und Ausstiegshilfen. Das liebevoll gestaltete Buch richtet sich an Kultur- und Heimatland-Interessierte, Katzenliebhaber und Katzenleiter-Designerinnen und -Designer. Es zeigt einfache Holzbretter und ge­rüstartige Konstruktionen, Wendel­treppen und Zickzackbauten, dient als Inspiration für eigene Projekte und spiegelt eine Welt, in der Katzen und Menschen auf eigenen Pfaden aufeinander zugehen.
«Eine Katzenleiter ist nicht nur ein kleines Handwerker-Projekt: Eine Katzenleiter bedeutet auch Architekturkritik, Selbstermächtigung, Demokratisierung des Wohnraums.» – Gabriel Vetter, Schriftsteller und Kabarettist
«Strategisch platzierte Rampen und Lei­tern für Stadtkatzen sind in Bern im Trend. Schusters Fotobuch dokumentiert das Phänomen.» – The Guardian
Inhalt
Vorwort
Einleitung
Schweizer Katzenleitern – ein Aufsatz
Modellskizzen und Photographien
Media images
Bilder für Medien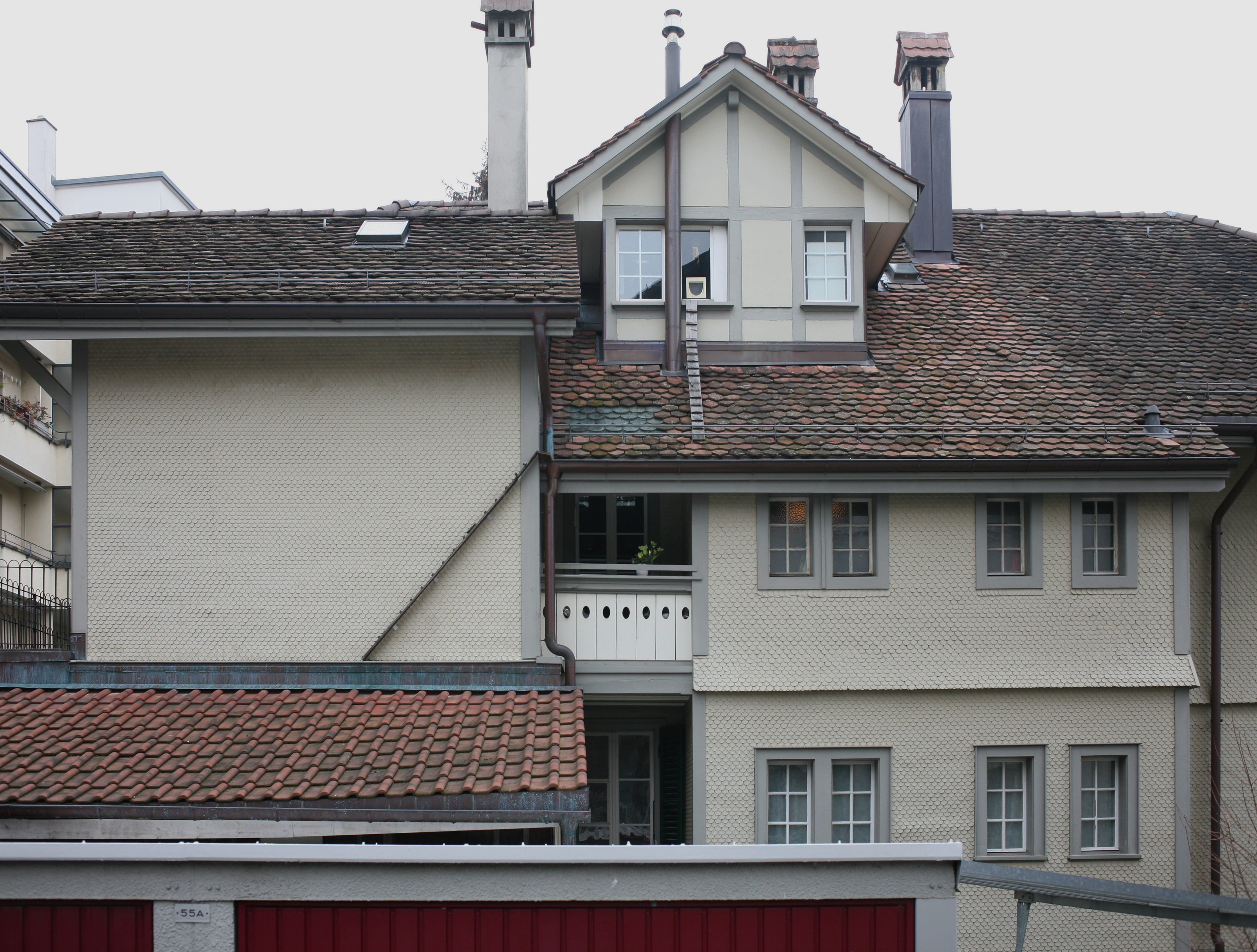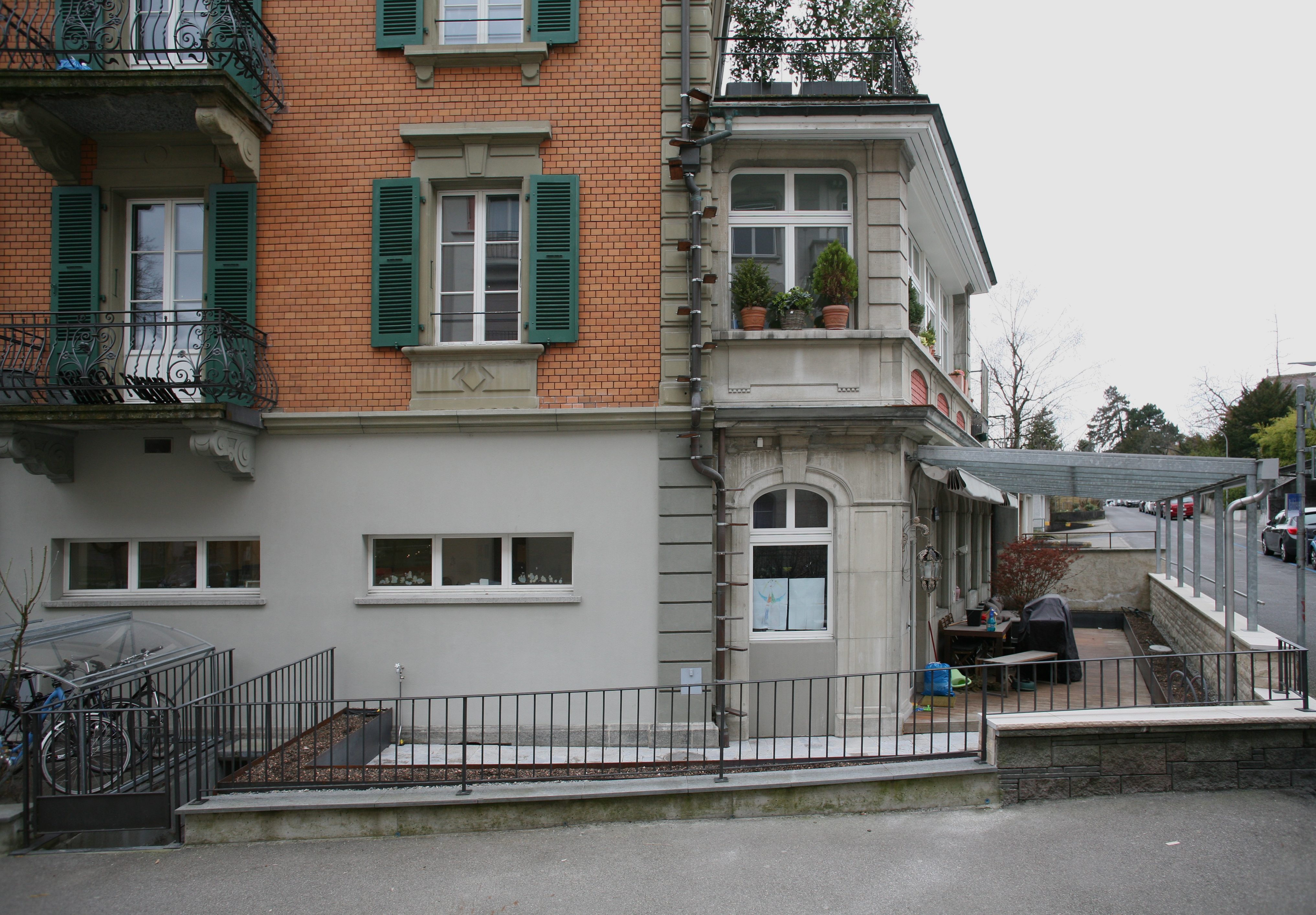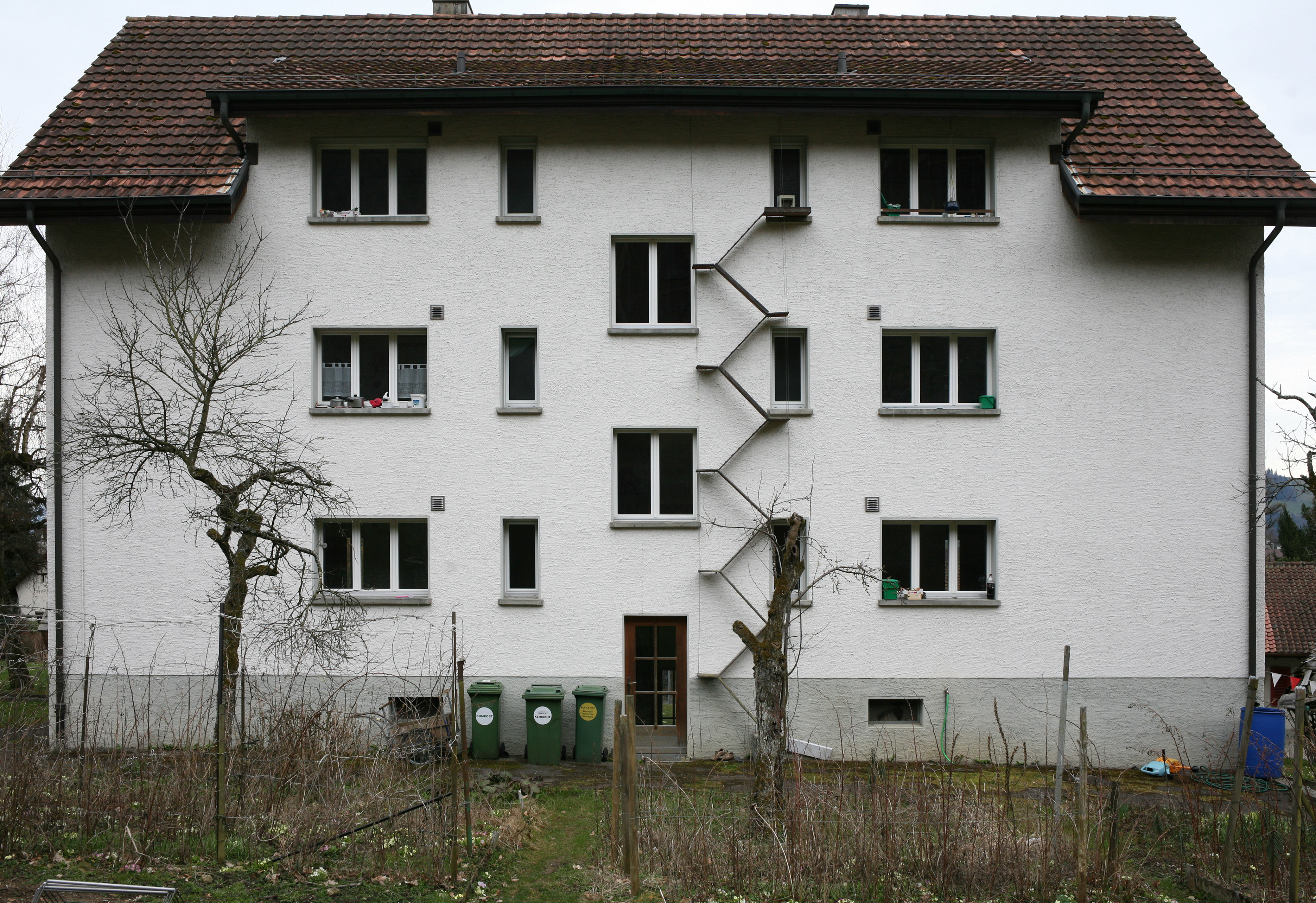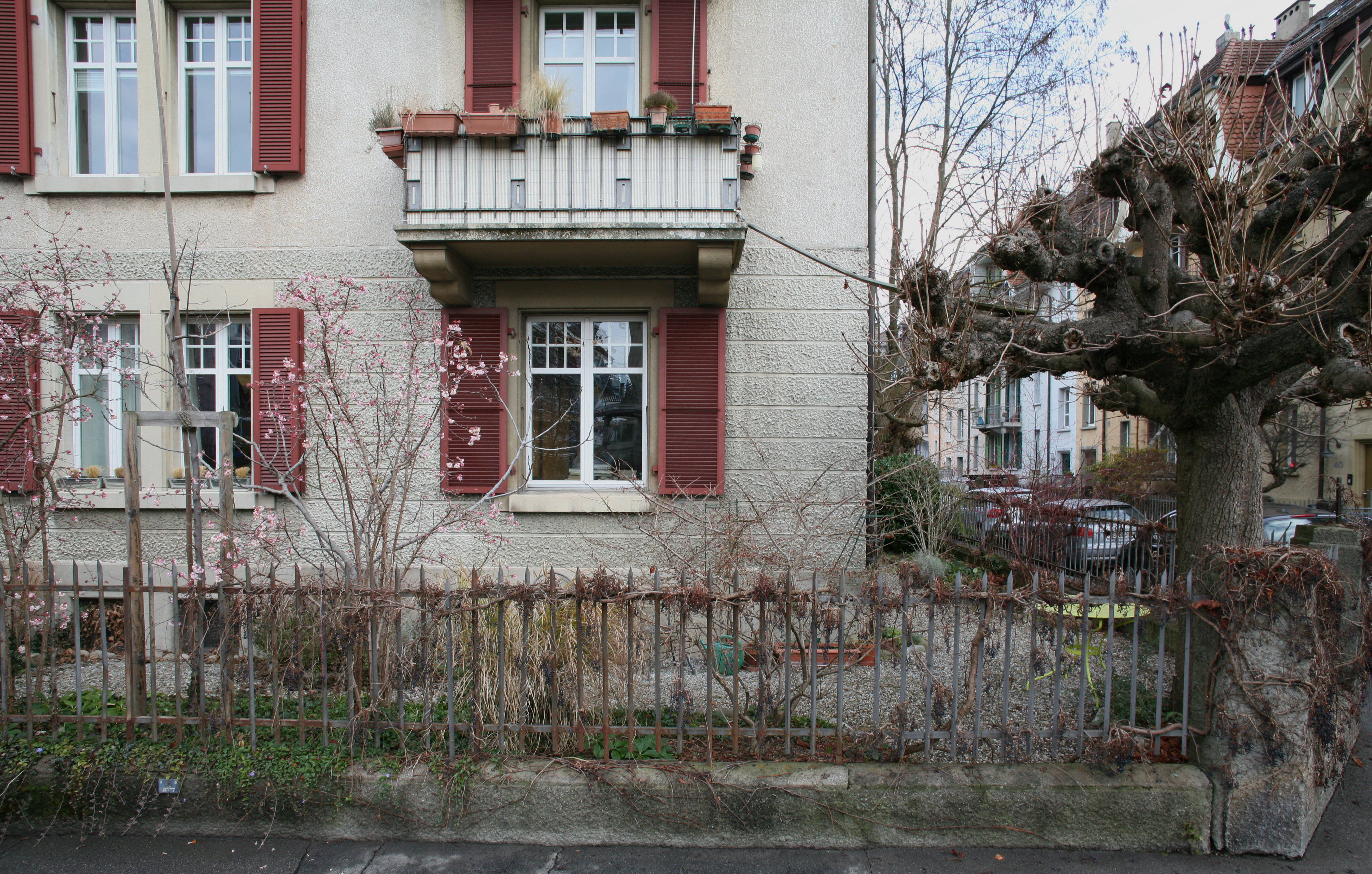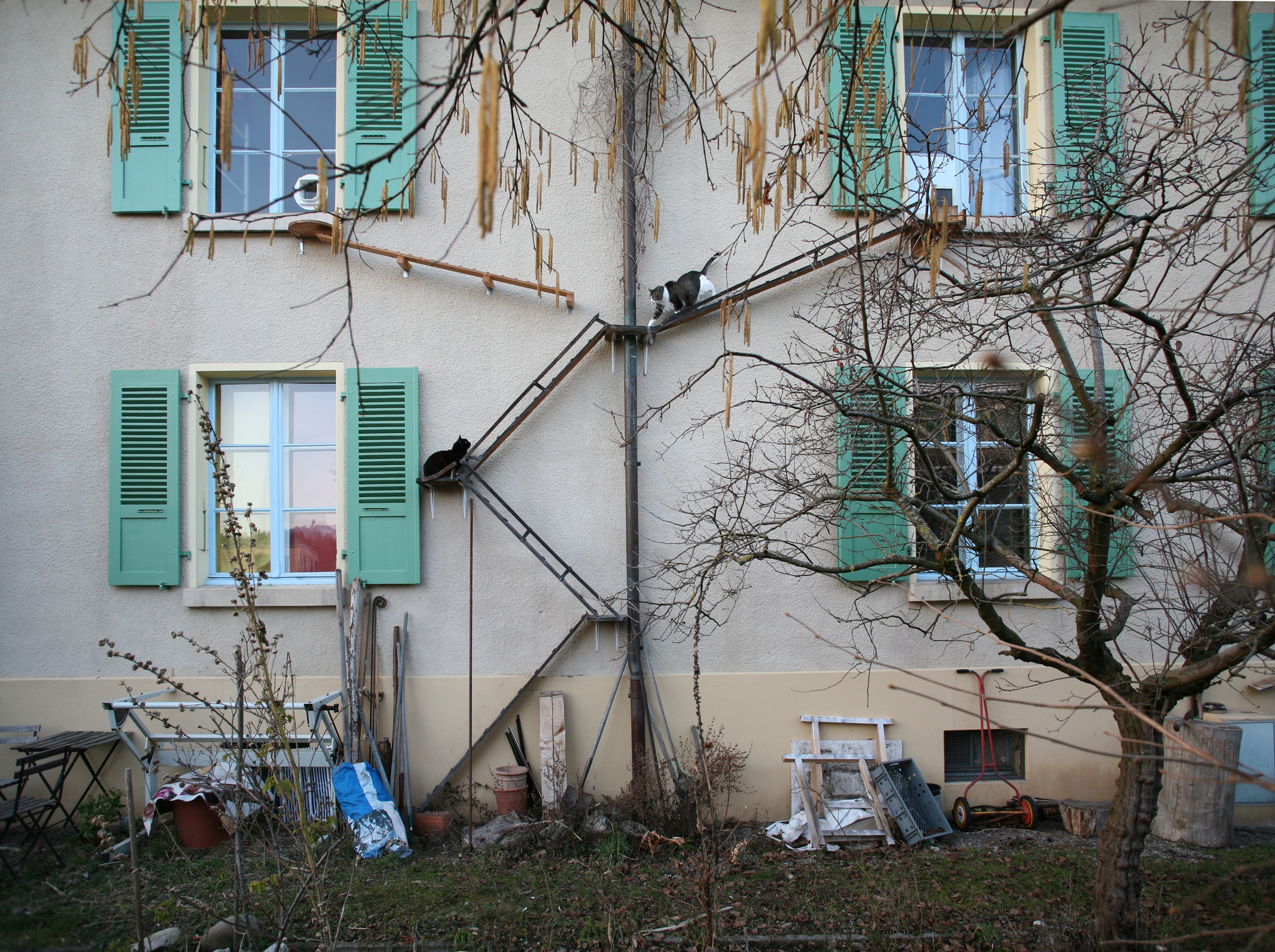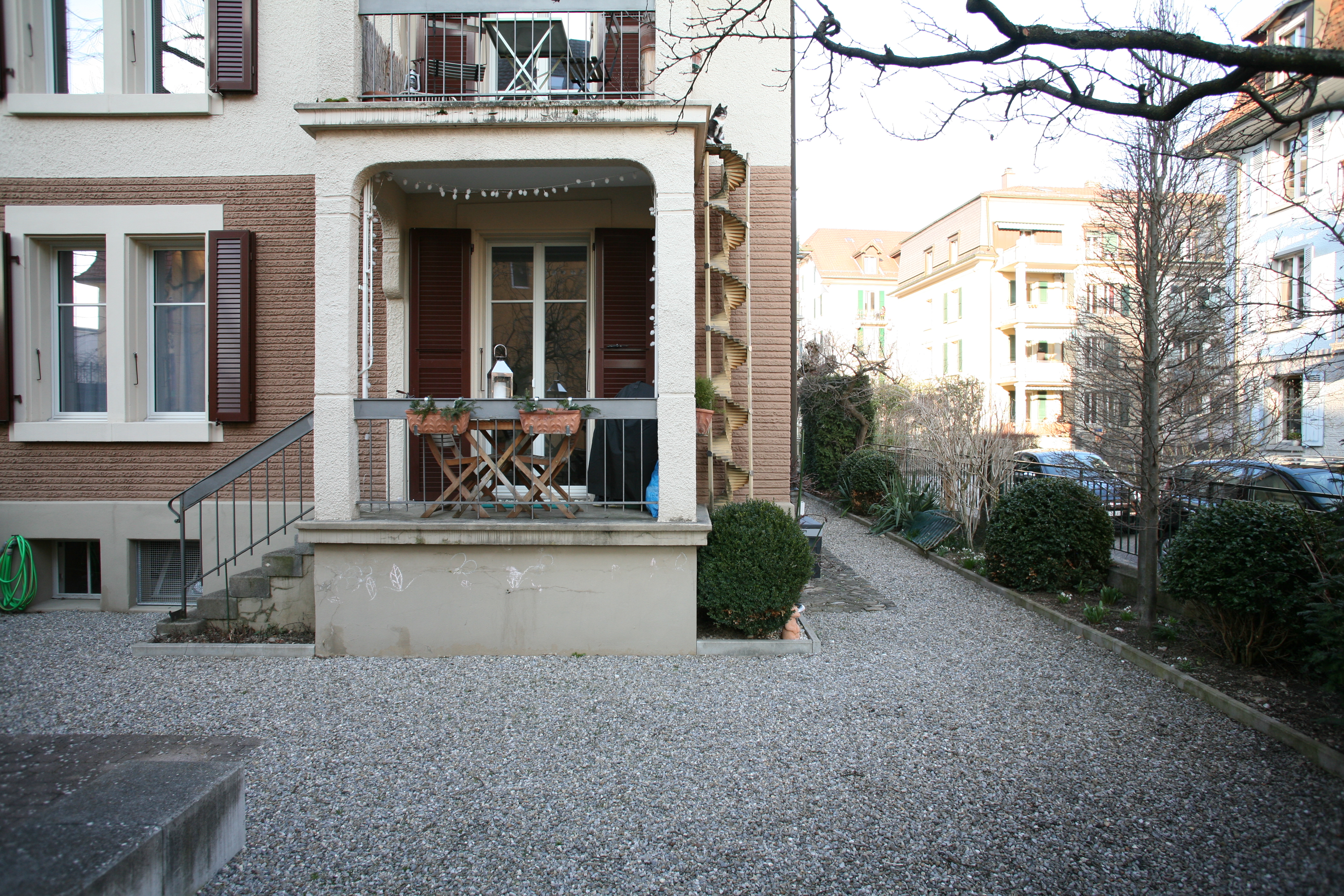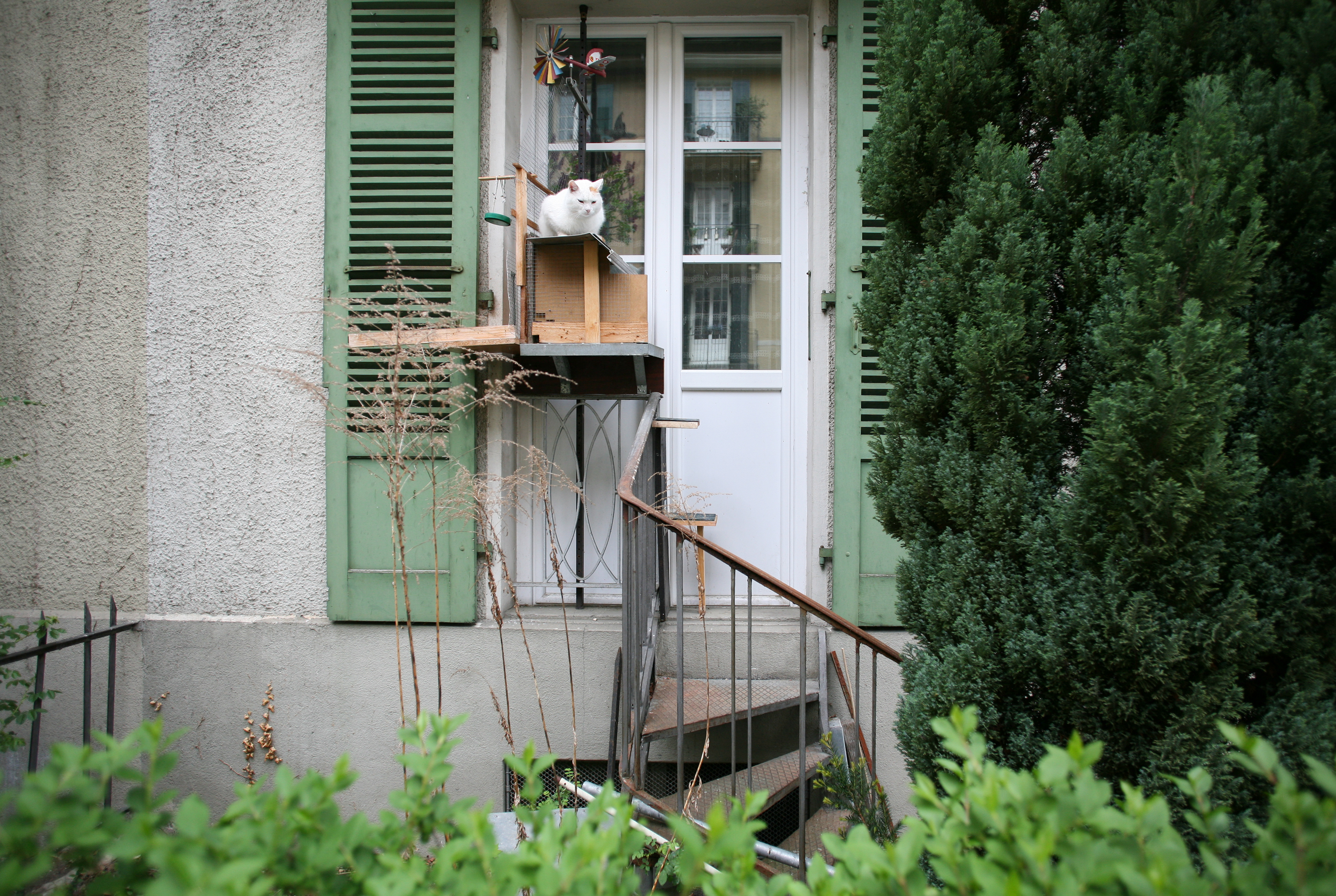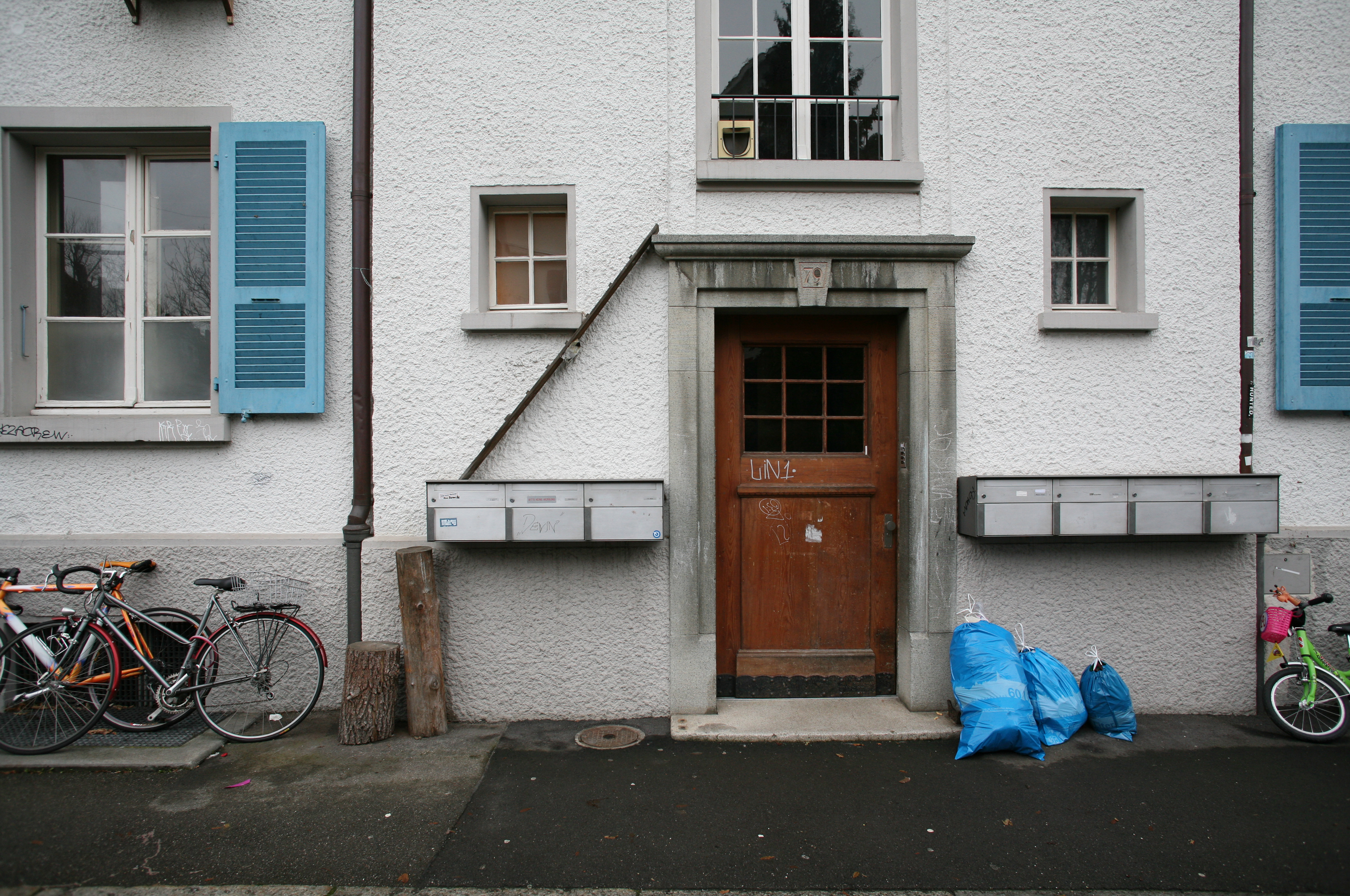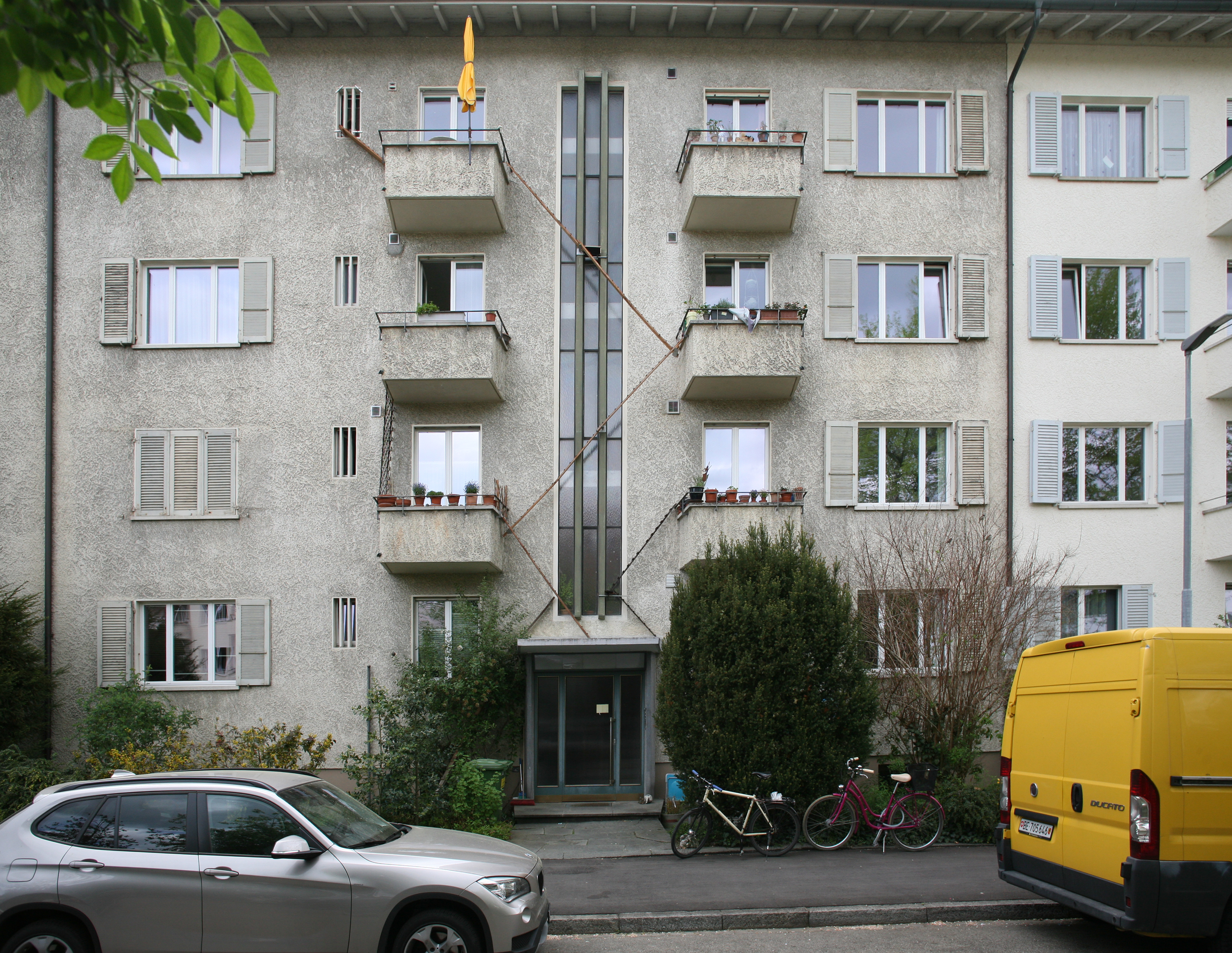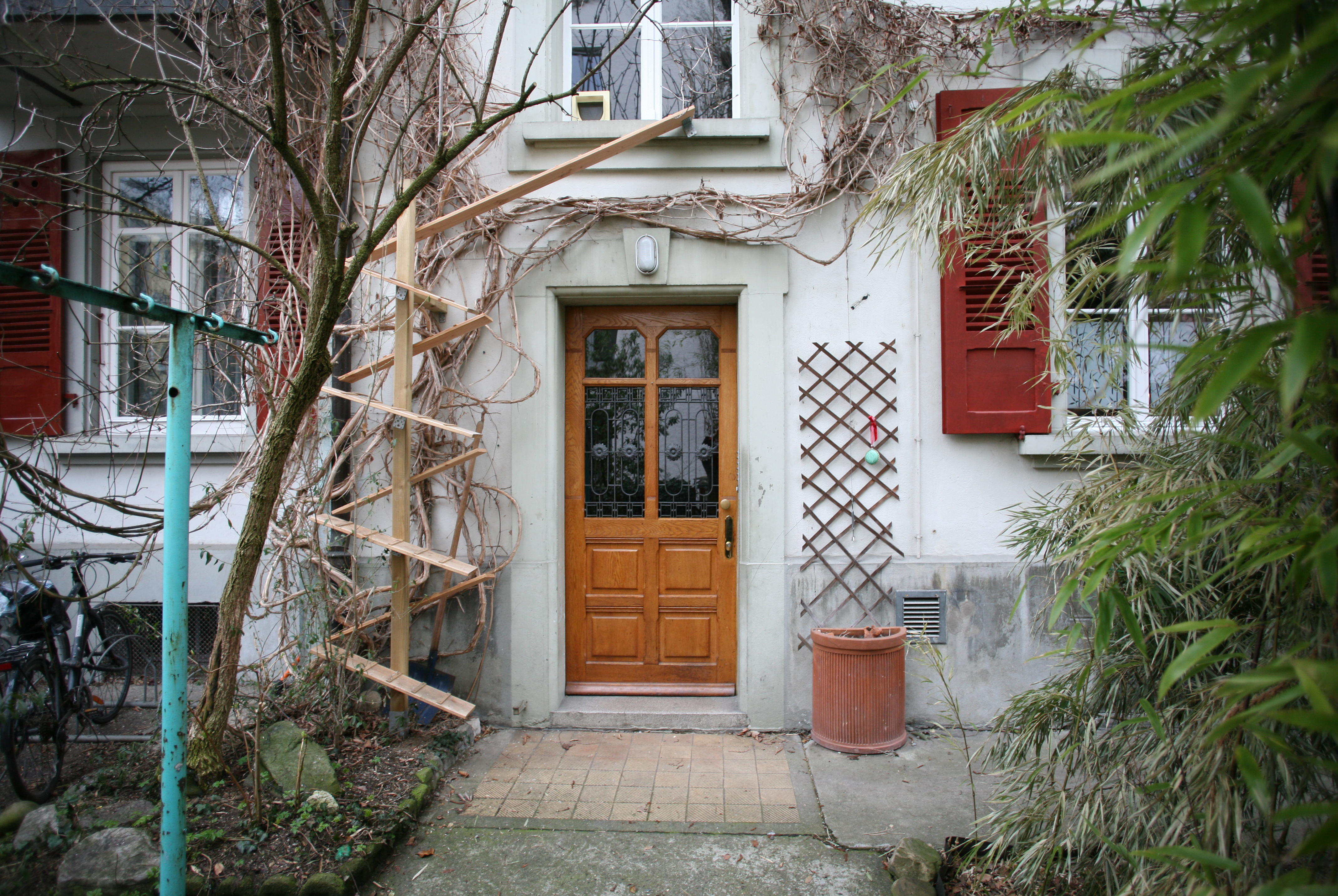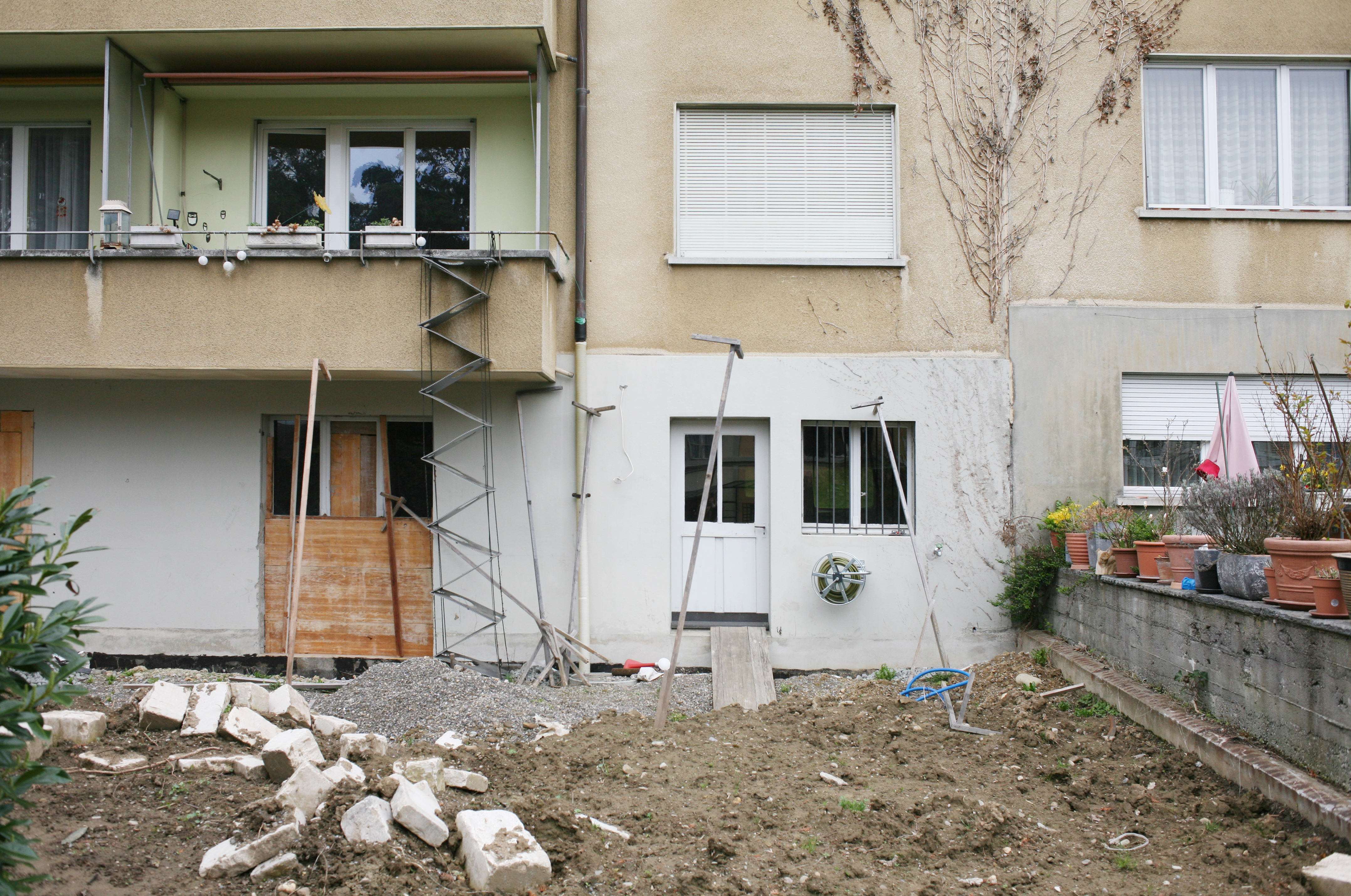 Buch-Bestellung und Versand
Das Buch ist in der regulären Edition und in der Sonderedition erhältlich.
Beide können direkt hier (über die "Order Form" oder per Email info[at]brigitteschuster.com) bestellt werden. Die reguläre Edition ist für CHF 44.00 / EUR 39.00 (zuzüglich Versandkosten) erhältlich.
Die Sonderedition mit einer Auflage von 400 Stück – enthält ein bedrucktes und signiertes Einlageblatt am Anfang des Buches – ist für CHF 44.00 / EUR 39.00 (zuzüglich Versandkosten) erhältlich.
Der Christoph Merian Verlag, CH vertreibt das Buch. Die internationale Distribution erfolgt durch Idea Books, NL.
Bezugsquellen in Europa:
Das Buch kann in Buchhandlungen und Online-Buchhandlungen erworben werden.
The American Book Centre, Amsterdam, NL
Architectura & Natura, Amsterdam, NL
Athenaeum, Amsterdam, NL
Bijleveld, Utrecht, NL
Brosese Boekverkopers, Utrecht, NL
Bruil & V.D. Staaij, NL
Boekhandel Dominicanen, Maastricht, NL
Frozen Fountain, Amsterdam, NL
Van Gennep, Rotterdam, NL
Nai Booksellers, Rotterdam, NL
Van Pierre Eindhoven, Eindhoven, NL
Bezugsquellen in Nordamerika:
Bezugsquellen in Asien:
Prosper Intl Book Co Ltd, Taipei, TWN
Yamazaki Tosyo, Tokyo, JPN
Tokyo Book Center C Ltd, Tokyo, JPN
Keishodo, JPN
Author
Published
Tags